Rick Stein's Cornwall: Gurnard with parsley, garlic and sea & land spaghetti recipe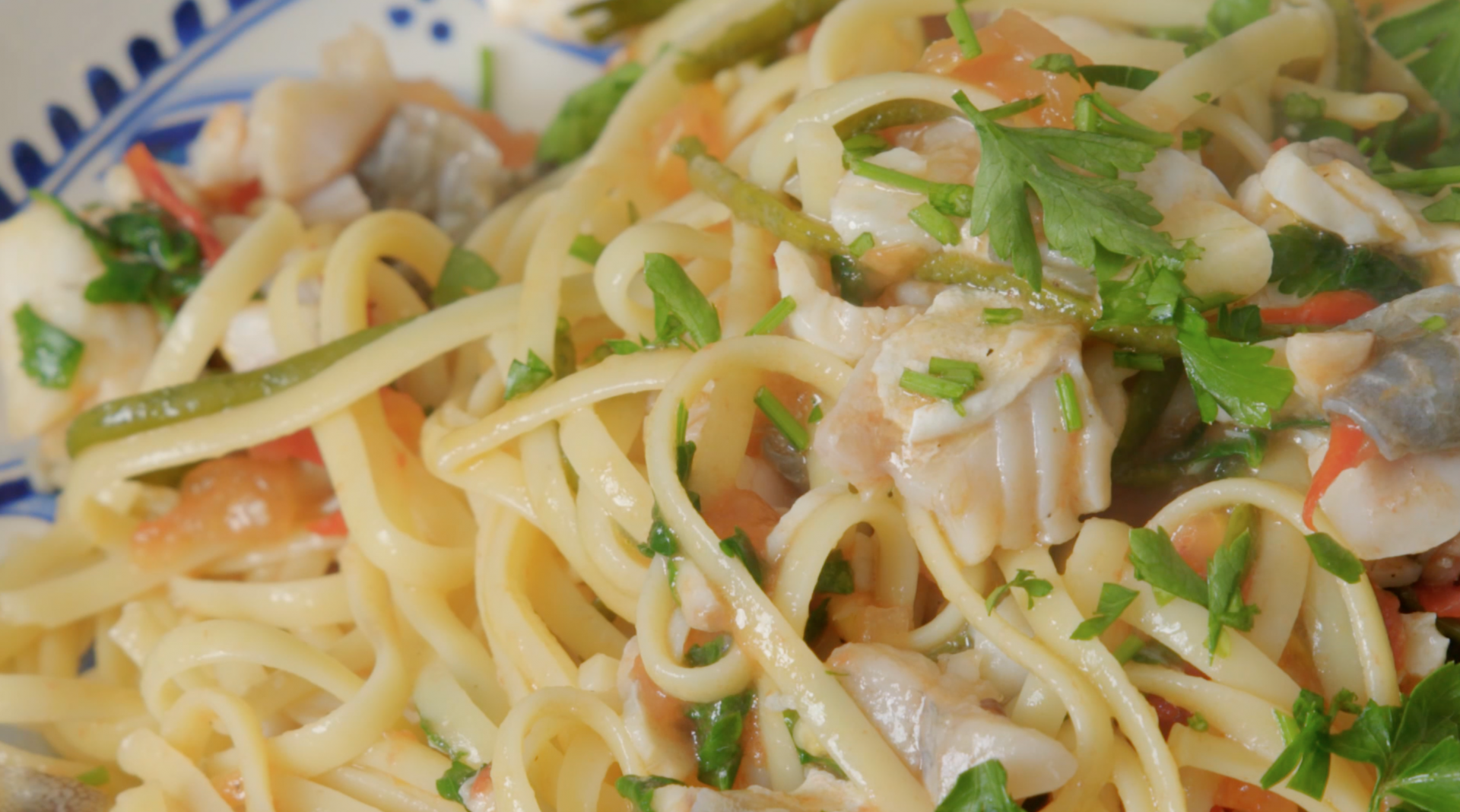 As seen in series two episode four of Rick's Stein's Cornwall on BBC2 – if you love crab linguine, this simple supper dish is a must-try recipe.
Rick says: I also make this with bass and bream, it's just a lovely way of cooking fish.
Serves 4
Ingredients
500-600g gurnard fillets
300g dried spaghetti or linguine
100g fresh sea spaghetti (or use approx 30g dried sea spaghetti)
4 tablespoons olive oil
2 garlic cloves, finely chopped
1 medium-hot red Dutch chilli, finely chopped
4 plum tomatoes, chopped
20g flat-leaf parsley, finely chopped
Salt and freshly ground black pepper
Extra virgin olive oil, to serve
Cut the gurnard fillets into strips 2cm wide.
Method
Bring 3.5l of water to the boil in a large pan with 2 tablespoons of salt. Add the sea spaghetti and blanche for 30 seconds to a minute, remove with a slotted spoon to a colander and immediately refresh under cold running water to retain green colour. (if using dried sea spaghetti cook for about 15 mins until al dente). Then add spaghetti to the pan and bring back to the boil and cook until al dente.
Meanwhile, heat the olive oil in a large frying pan. Fry the strips of gurnard, for about 3 minutes. Turn them over, fry for 1 minute and then season with some salt and pepper.
Drain the pasta well combine with the sea spaghetti and tip it into a large warmed serving bowl.
Add the garlic and red chilli to the frying pan with the gurnard and fry for 30 seconds. Add the tomatoes and fry for a further 30 seconds.
Tip everything into the bowl with the pasta, scraping up all the little bits that may have stuck to the bottom of the pan, add 3 tablespoons of the parsley and gently toss everything together so that the fish just begins to break up. Serve immediately, drizzled with extra virgin olive oil and sprinkled with the remaining parsley.
MORE RECIPES FROM RICK STEIN'S CORNWALL
Recreate your favourite recipes from both series one and two of Rick's adventures around Cornwall. Something sweet, something savoury, something spicy and lots more to cook at home.