Rick Stein's Cornwall: Shangurro Razor Clams Recipe
16.01.2022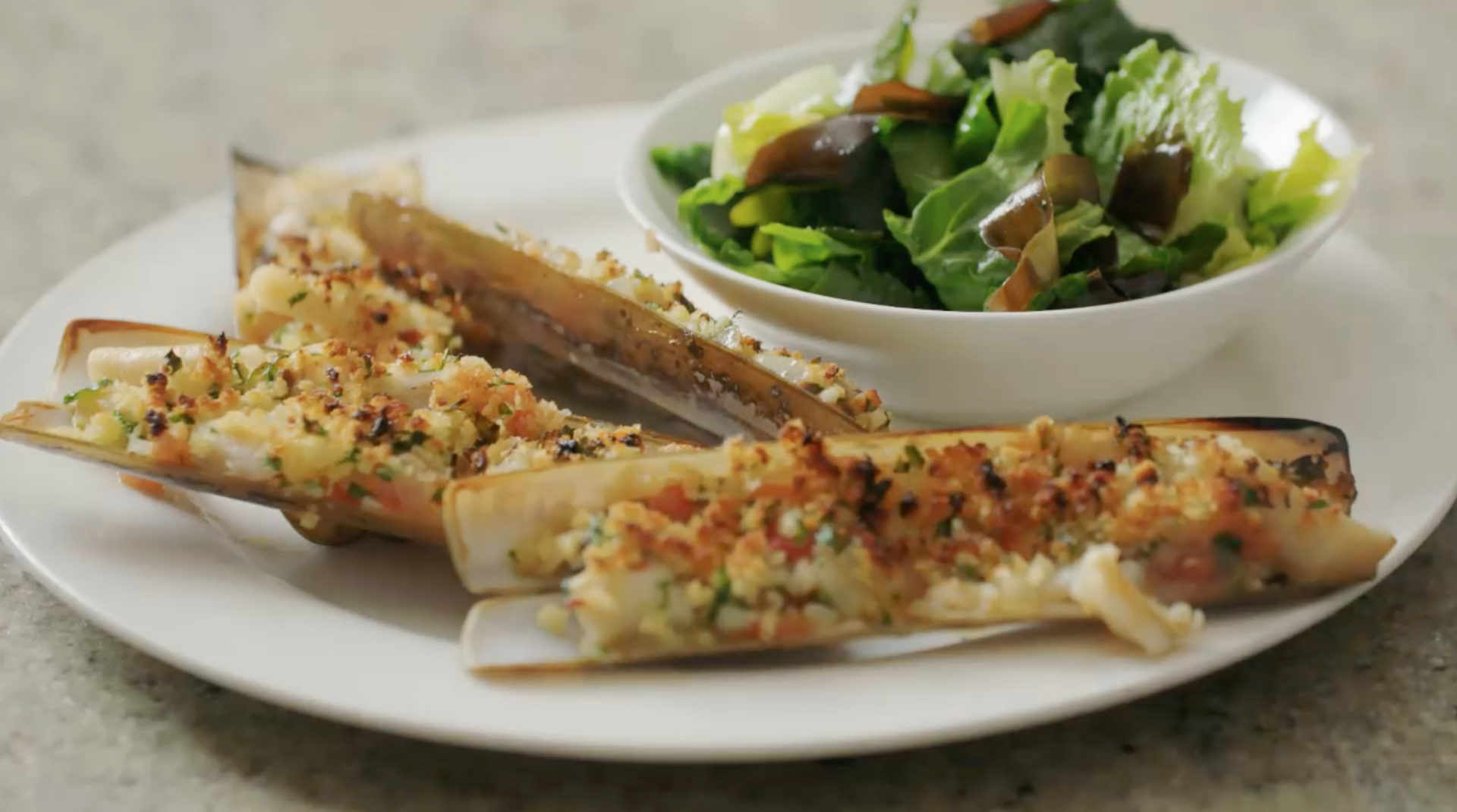 As seen in series two episode eleven of Rick's Stein's Cornwall on BBC2 – Rick's Shangurro razor clams recipes has been adapted from a classic from his Spanish travels that celebrated crab. Garlic, onion, tomato and breadcrumbs work a treat on top of the simply cooked shellfish.
Serves 4
Ingredients
8-12 razor clams
2 tablespoons olive oil
1 onion, finely chopped
4 small garlic cloves, finely chopped
150g plum tomatoes,skinned,seeded and chopped
25 ml dry white wine
½ tsp caster sugar
pinch dried chilli flakes
1 Tbsp chopped fresh parsley
25-30g panko breadcrumbs
10g butter, melted
1 garlic clove, very finely chopped
Salt and freshly ground black pepper
Crusty white bread to serve
To serve alongside
A salad of lettuce and seaweed dressed with a little oil , soy sauce and vinegar
Method
Pre-heat the grill to high.
Steam with razor clams open in a pan with a lid with a splash of white wine until they open, then set aside to cool a little before removing the flesh and chopping into 2cm long pieces. put the shells on a baking tray for later..
Heat the olive oil in a frying pan, add the onions and all but 1 of chopped garlic cloves. Fry over a gentle heat for 2 minutes, until softened. Increase the heat, add the tomatoes, any liquor from steaming the clams, sugar, chilli flakes and some salt and pepper and simmer for about 4 minutes, until the mixture has reduced to a thick sauce. Stir in 2 tablespoons of the parsley and chopped razor clam meat and spoon the mixture into the razor clam shells. Mix the breadcrumbs with the melted butter and the rest of the parsley and remaining garlic, sprinkle this mixture over the shells and grill until the topping is crisp and golden.
For the seaweed salad.
Blanch the seaweed in boiling water for 4-5 minutes, drain and refresh in ice cold water.
Put the seaweed and some lettuce leaves into a bowl and add a splash of olive oil, soy sauce and red wine vinegar. toss together and serve with the razor clams.
DISCOVER MORE RECIPES FROM RICK STEIN'S CORNWALL
Recreate your favourite recipes from both series one and two of Rick's adventures around Cornwall. Something sweet, something savoury, something spicy and lots more to cook at home.