Rick Stein's Cornwall: Stargazey Pie Recipe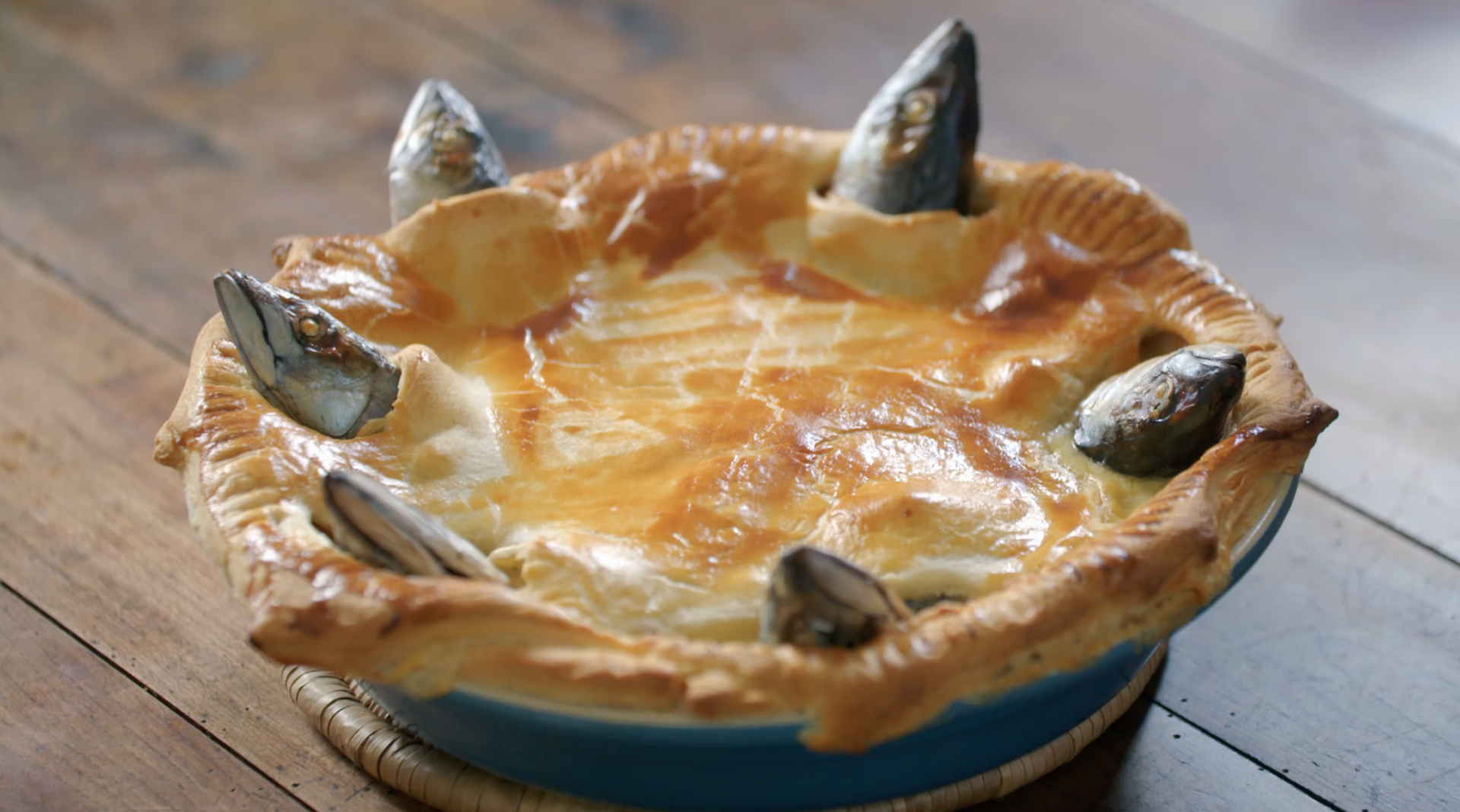 As seen in series two episode five of Rick's Stein's Cornwall on BBC2 – Stargazey pie is a famous Cornish recipe that we know you'll enjoy cooking at home for your friends and family. Recreate it with the freshest Cornish mackerel from our online fishmongers.
Serves 4
Ingredients
200g puff pastry
30g butter
1 onion, finely chopped
1 leek, finely chopped
3 rashers streaky bacon, finely chopped
20g plain flour
3 Tbsp dry white wine
250ml fish stock
300ml double cream
Pinch saffron strands
1 tsp salt
Freshly ground black pepper
6 small mackerel, butterflied with the heads on (backbone and tail removed)
Small bunch fresh parsley, chopped
2 hard boiled eggs, chopped
1 egg beaten, for glazing pastry
Method
Preheat the oven to 200c/180c fan.
Melt the butter in a pan over a low heat and add the onion and leek and bacon and allow to sweat over a low heat until very soft but not browned. Stir in the flour to make a roux, cook for a minute and then add the white wine and fish stock stir well to remove any lumps, bring up to a boil and turn down to a simmer and cook for 5-10 minutes until the sauce has thickened, add the cream and bring up to a boil and stir until you have a thick sauce, add the saffron strands, salt and pepper stir in the parsley and fold in the chopped boiled egg.
Brush the edge of the pie dish with a little water Line the edge of the dish with a strip of pastry. Pour a little of the sauce into a pie dish and arrange the fish on top with their heads on the edges of the dish. Pour over the remaining sauce. Roll out the pastry to a little bigger than the size of the dish, cut slits in the pastry large enough to poke the mackerel heads through. Working around the dish one fish at a time, poke the fish heads through the pastry. Brush the top of the pastry with beaten egg and bake for 40-45 minutes until the pastry is golden and crisp.
Serve with green vegetables and new potatoes.
EXPLORE STEIN'S ONLINE FISHMONGERS
Delivering a wide range of sustainably caught fresh fish and shellfish, straight to your door from Cornwall. Order restaurant quality fish fillets, whole fish, shellfish, smoked fish and mixed fish boxes, plus ready to eat options.