Rick Stein's Cornwall: Vegetable Melange with Beurre Blanc recipe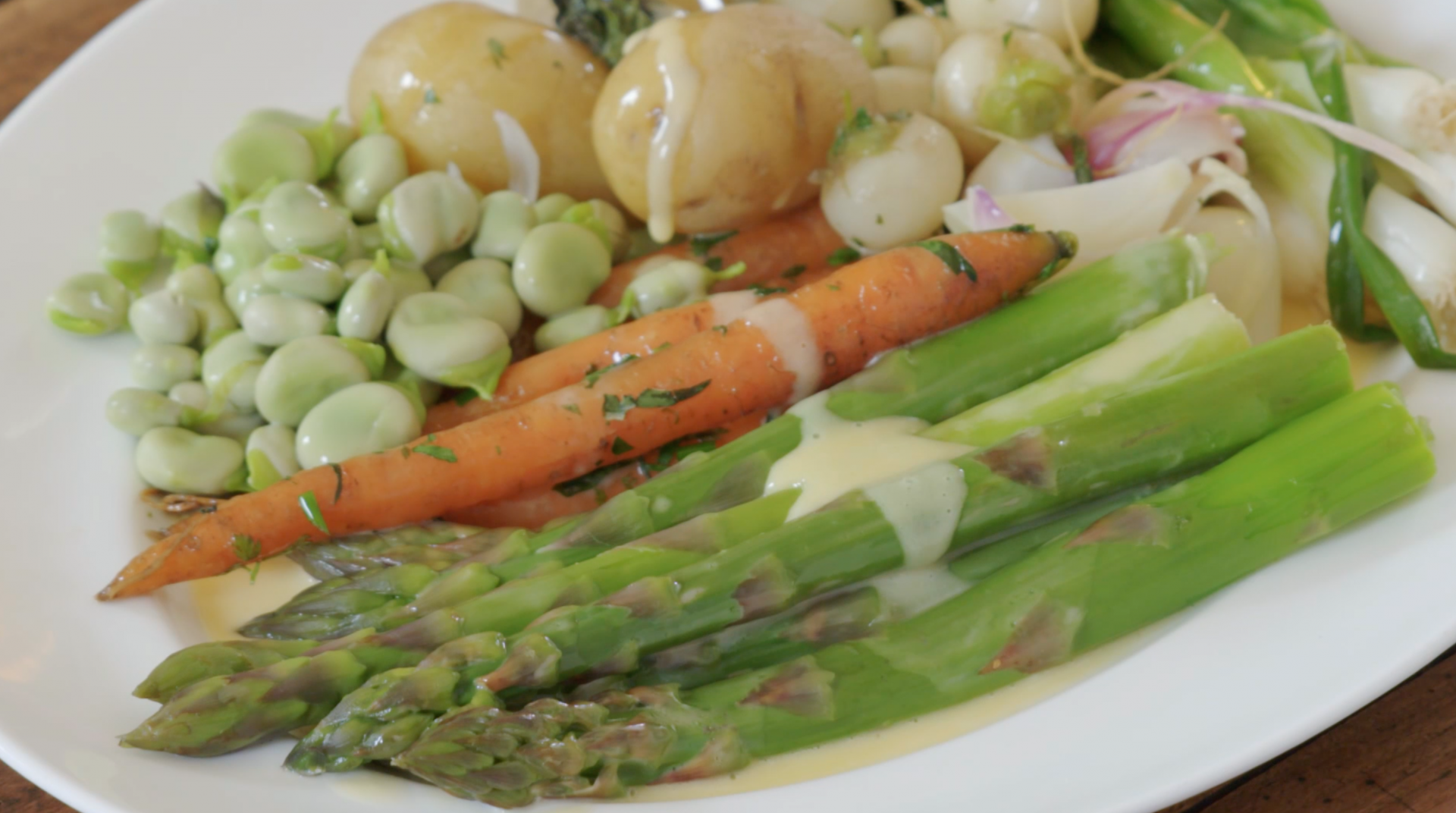 As seen in series two episode thirteen of Rick's Stein's Cornwall on BBC2 – vegetable melange with beurre blanc is a real celebration of the best of the best from spring, including Cornish asparagus from St Enodoc. This recipe works well as a light lunch or paired with some simply grilled fish from our online fishmongers.
Serves 4
Ingredients
For the vegetable melange

12 asparagus spears
400g broad beans pods, beans removed from the pods
12 small baby carrots, scrubbed 
10-12 waxy new potatoes, scrubbed 
A bunch of spring onions, trimmed
2 bulbs wet (new seasons) garlic, trimmed and sliced lengthways 
8 baby turnips, halved 
A handful of mixed fines herbes, chervil, chives, tarragon and parsley, chopped
Salt and pepper
For the Beurre Blanc
50g shallots (or onions), roughly chopped
2 tablespoons white wine vinegar
4 tablespoons dry white wine
6 tablespoons water or fish stock
2 tablespoons double cream
175 g (6 oz) unsalted butter, cut into pieces
Method
Put the shallots, vinegar, wine and water in a small pan, bring to the boil and simmer until nearly all the liquid has evaporated.Strain off the shallots, add the cream and reduce a little more, then remove the pan from the heat and whisk in the butter a little at a time until it has all amalgamated.
You can also make the sauce by reducing down and adding the cream as before then adding a couple of tablespoons of water. You then bring the sauce to a rapid boil and whisk the butter in while boiling. This method will produce a perfectly acceptable sauce but it will be a little less light than if you choose the first method. This second method is also the way to reconstitute a sauce which has got too hot and separated. At the restaurant we replace the water with well-reduced fish stock which gives the sauce a roundness but it still tastes good made with water.
Boil the new potatoes in salted water with a few sprigs of mint until tender, then drain .
Bring a large pot of water to the boil and blanch all of the vegetables separately, when done remove from the water and plunge into ice cold water to refresh.
Cook the carrots, turnips in a pan with 50g of butter, a pinch of salt and a really good pinch of sugar, and cook until al dente.
Chop all of the herbs, add the vegetables back to the boiling water for a few seconds and then drain. Arrange all the vegetables onto a platter and scatter over the chopped herbs and serve with the beurre blanc.
DISCOVER MORE RECIPES FROM RICK STEIN'S CORNWALL
Recreate your favourite recipes from both series one and two of Rick's adventures around Cornwall. Something sweet, something savoury, something spicy and lots more to cook at home.