Rick Stein's India – Episode 1 – Monday 17th June
17.06.2013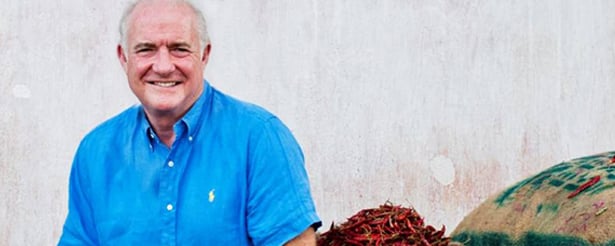 So that's it, Rick's Indian adventure and search for the perfect curry is well and truly underway.
It seems that when Rick hears the word curry he is filled with a longing for spicy hot food with the fragrance of cumin, cloves and cinnamon. But tonight's episode saw him delve straight into the quest to find the perfect curry and it seems there are more complexities to curries than meets the eye.
The delicious kati rolls that featured tonight were from Nizam's in Calcutta and Rick certainly seemed to enjoy them! Who could resist the satisfying mix of freshly made paratha with a just cooked layer of omelette rolled up round a kebab and flavoured with a cumin and coriander masala plus red onions and green chilli.
Rick classes this dish as legendary Indian street food and that's why he's chosen it to feature on Padstow Seafood School's new Indian Street Food one-day cookery course.
Next came the cocunut prawn curry from Kewpies, Rakhi Dasgupta's famous restaurant in Calcutta. Has Rick already found his perfect curry?
The simple egg curry, coconut masala with whole eggs, that featured was cooked in the home for destitute women in Calcutta, where Rick was overwhelmed by the women's stories. Rick wasn't sure whether this recipe would appear in the series though, as apparently the cook was very badly tempered when they were filming!
When it came to the British raj curry, it appeared that the lure of his mother's cooking was just too strong, as he'd never intended to feature any curries that didn't come from India. But this curry, finished with sultanas and served with a bowl of desiccated coconut and sliced banana and chutney, definitely looked too good to not include.
All of the dishes featured in tonight's episode are in the accompanying book available to buy in our online shop.
This summer, you can also meet Rick Stein in person and get your copy signed at his book-signings or watch him recreate his Indian adventure at his evening demonstrations.