Rick Stein's India – Episode 2 – Monday 24th June
24.06.2013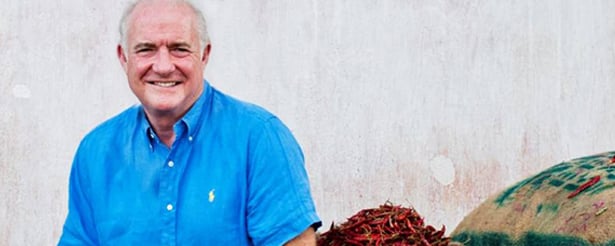 Rick's search through India for the perfect Indian curry (or gravy!) continued tonight and started in Mumbai with the squid curry from Karkera Canteen in Fort Mumbai. Despite this 'hole in the wall' restaurant being a bit of a squeeze, Rick seemed impressed by its atmosphere – they even turn the kitchen prep tables into dining tables during lunch hour. Rick has chosen this squid curry dish to go on the menu at our café in Padstow.
Thinking back to the first episode in Calcutta, Rick was very impressed by the skill and remarkable inventiveness of the master chefs on the streets in India. Tonight Rick discovered even more street food with the pau bhaji from the streetside restaurant Sardar. Rick seemed to love the indulgent style of this dish, with finely chopped vegetable curry cooked to a soft mash, the freshly baked buns and above all, the slab of butter slathered on to the bun and laid across the bhaji!
Rick couldn't wait to bring this dish back to Padstow, and has chosen it to feature on Padstow Seafood School's cookery course on Indian Street Food and it is on the menu at our pub, The Cornish Arms.
The chicken and apricot curry with potato straws that featured tonight can also be tried at The Cornish Arms this summer.
The meen masala or Bombay salmon masala curry, looked like a really quick and simple dish to make with lots of rewarding flavour for very little effort. According to Rick, in India they tend to cook all their fish right through, but his top tip would be to cook the salmon until it's still soft and pink in the centre.
Finally, came the turn of the madras fish curry of snapper, tomato and tamarind from the Seashore Garden restaurant – a great but somewhat accidental find. Whilst filming Rick and the crew came across the beach of Mamallapuram, with four or five restaurants right on sand and brightly coloured fishing boats all the way along the Bay of Bengal.  Rick thinks that this dish is great to show how really fresh fish isn't ruined by a spicy curry and he recommends that in the UK we use monkfish fillet, filleted bass or gurnard.
It seems too obvious that Rick would choose a fish dish for his favourite curry, doesn't it…? Either way it must be good, as he has chosen it for the menu at The Seafood Restaurant.
Full recipes for all the other dishes that featured tonight are available in the book, including the Bombay duck, sour berry chicken pulao, sautéed prawns and courgettes with salted lemon, coriander and basil, aloo dum and chicken vindail.
This summer, you can also meet Rick Stein in person and get your copy signed at his book-signings or watch him recreate his Indian adventure at his evening demonstrations.
The search for the perfect curry continues…