Rick Stein's India – Episode 3 – Monday 1st July
01.07.2013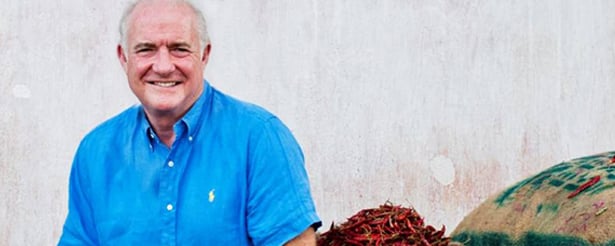 Tonight's third episode started in Madurai (formerly Madura), the second largest city in the state of Timil Nadu. The famous Sangam poem Rick mentioned is 'The Garland of Madurai' and it paints a brilliant picture of the city in the days of the second-century, describing the perfume of flowers, ghee and incense that could be smelt for miles around.
On to the food now; the tamarind rice, or puliyodharai, we saw tonight was prepared in the kitchen of the Meenakshi Temple in Madurai.  Once the rice is cooked, it is pressed against a stone surface by hand; as they believe it gives an additional flavour(!)
Religion in India seems to be very much part of everyday life and at this temple they cook food free for worshipers and have another kitchen where they cook food to be sold after being blessed by a priest. In the book, as only Rick could, he compares this to visiting York Minster and coming away with a Yorkshire pudding, blessed by the archbishop!
Another great dish from Madurai that didn't make the directors cut for the TV series is the Chettinad chicken, from the Taj Gateway hotel.  A peppery dish, but one that is full of real country cooking – you can try it at Rick Stein's Café this summer.
For those with a sweet tooth, it was time for a dessert dish this week with the inclusion of payasam, a sweet milk pudding with vermicelli. This one is a typical Tamil dessert and is apparently always served at local weddings. With plenty of milk, ghee and sugar this dish, like most Indian desserts, is best enjoyed in small portions!
Tonight's episode was one for the meat-lovers with both pork and lamb on the Indian menu. Most of us know that in India, pork is rarely found outside Kerala and Goa. Muslims don't eat it; many Hindus are vegetarians, and those who do eat meat don't care for pork. But Rick thinks the pork dishes of the Christian communities in Goa and Kerala are a triumph of fragrance. Amma's pork curry with green chillies and tamarind was the perfect example of this.
Some of us in Britain are probably also a little guilty of finding curries made with goat meat a little off-putting. Whereas Indians much prefer goat to lamb, and use it in what they call mutton curry. The Cochin first-class railway mutton curry that featured tonight is actually made using lamb shanks, but is full of flavour and fragrance from marinating over night and cooking long and slow.
Full recipes for all the other dishes that featured tonight are available in the book, including vadai, spicy lentil soup with squash, tomato and green beans and sea bass pollichathu in banana leaf.
This summer, you can also meet Rick Stein in person and get your copy signed at his book-signings or watch him recreate his Indian adventure at his evening demonstrations.
The search for the perfect curry continues…