Rick Stein's India – Episode 4 – Monday 8th July
08.07.2013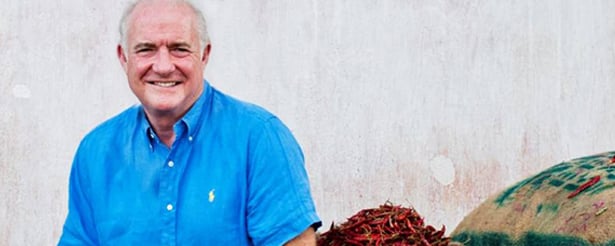 We're now over half way through Rick's Indian adventure and tonight's episode saw him discovering Lucknow and the food of the Nawabs.
The first dish Rick cooked, Nimish, was very typical from the era of the Nawabs and their very inventive chefs. This dessert is simply whipped, sweetened cream and milk, flavoured with saffron and rosewater. In his book, Rick recalls walking through the cool streets of Lucknow at dawn and stopping at a stall with a giant bowl full of it, scattered with saffron, pistachio nuts and silver leaf. They scooped up a glassful of it for him, which traditionally contains the morning dew settled on the cream, and Rick described it as a 'true experience of the mystique of India in a single taste.'
Nimish is also used in an Indian version of our bread and butter pudding, called shahi tukra, originating from the imperial kitchens of the Mughal Empire. Whilst travelling, this was a favourite of Rick's so you'll find it on the menu at The Seafood Restaurant.
Rick is always keen to meet new friends on his adventures, and tonight he met Rocky Mohan and his wife Rekha, who cooked their version of chicken korma, much to Rick's satisfaction! Eager to see if Rick could cook as well as he said he could, Rocky made the journey to Padstow this spring to try some of his food at The Seafood Restaurant – he too seemed impressed.
Next on the menu was shami kebabs, and Rick was introduced to this dish by one of the people who helped in creating the book, Roopa Gulati. A very tempting, silky smooth dish stuffed with just a little finely chopped onion, mint and green chilli.
The final dish cooked by Rick was the paneer jalfrezi and according to a poll featured in the British Curry Club's in-house magazine, the jalfrezi is now the most popular choice in Britain's Indian restaurants. The jalfrezi Rick cooked however was specifically for 'paneer', an Indian cheese, but if you can't get hold of this, Rick suggests halloumi as a good, but saltier, alternative.
Full recipes for all the other dishes that featured tonight are available in the book, including mutton curry, pakoras, jaggery, kebabs and more.
This summer, you can also meet Rick Stein in person and get your copy signed at his book-signings or recreate his Indian dishes on our cookery courses at Padstow Seafood School.
The search for the perfect curry continues…