Rick Stein's India – Episode 5 – Monday 15th July
15.07.2013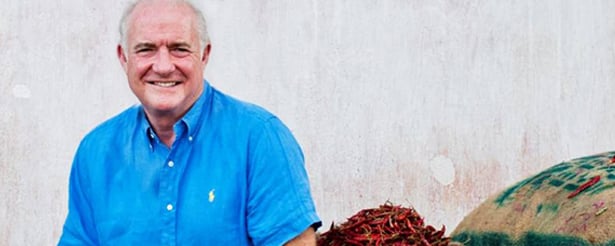 Edging ever closer to the final episode of Rick's Indian adventure, tonight's instalment saw him exploring Deogarh, Pushkar and Jaipur.
When Rick lunched at Sanjiv's Bali's restaurant in the Amber Fort just outside Jaipur, it turned out to be a showcase of classic Rajasthani cuisine. The popular mutton chop recipe that Rick recreated was made with lamb cutlets that are first simmered in aromatic milk before given a light spice batter and fried.
When it came to the chicken and rosewater biryani, Rick has admitted to spending a considerable amount of time tying to perfect the making of a good biryani and the much easier pulao. Both are rice dishes with strong Persian influences, but when made poorly both can be a little stodgy. Rick thinks that the secret is to parboil the rice so that the surface is soft and cooked, but the centre is still hard.
Rick was also very fond of the aloo gobi, potato and cauliflower curry, that featured from a village near Deogarh. He likes to enjoy it at breakfast with a fried egg on top, but also recommends trying it with raita and chapatis.
Moving on to the rajma, or kidney bean curry, Rick confesses that this was one of the most surprising things he discovered on his Indian adventure – and one of those dishes where he would have no problem with being a vegetarian. Rick had another top tip when making this recipe, suggesting mashing some of the beans against the side of pan just before serving.
Finally, tonight Rick was honoured to meet with the Dalai Lama and they certainly seemed to get along whilst talking about Indian food.
Full recipes for all the other dishes that featured tonight are available in the book, including, jungli maas, keema dhai vada, chickpea curry, momos and more.
This summer, you can also meet Rick Stein in person and get your copy signed at his book-signings or recreate his Indian dishes on our cookery courses at Padstow Seafood School.
The search for the perfect curry continues…