Rick Stein's India – Episode 6 – Monday 22nd July
22.07.2013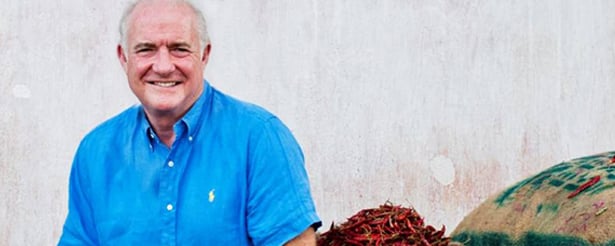 So that is it. Rick's Indian journey is complete and after weeks of cooking at the beautiful bungalow on the lagoon in Kerala, he has found his perfect curry. But first we were treated to a recap of Rick's favourite dishes throughout the series and great selection of new chicken, crab, lamb and vegetarian dishes.
When Rick visited the Taj Gateway hotel in Madurai he was lucky enough to observe the home cooking of Mrs Samundeswary and her Chettinad chicken. It's a very spicy and peppery dish, but one that tastes of real country cooking. It also included the lichen of a stone, known as dagarful, kalpasi or stone flower – if you can't find it Rick suggest using more cinnamon. The simple and summery dish obviously impressed Rick as it is on the menu at Rick Stein's Café.
Rick didn't need any excuse when it came to the next Chettinad dish, but made with crab it was much more familiar to Rick. He described it as a dish where you can get your hands dirty and enjoy with a nice cold beer.
Tonight we also saw another vegetarian treat in the shape of the thoran, a dry vegetable curry from Kerala made from whatever fresh vegetables are available and cooked with mustard seeds, green chillies, ginger and grated coconut.
India has been an eventful journey and one full of discovery, colour and spice – but in tonight's episode it was nice to take a trip down memory lane to the simpler flavours of Taste of the Sea back in 1995. Even 18 years later Rick is still having problems with mixers and grinders.
When it came to Rick's perfect curry it was the accidental find in Mamallapuram and the madras fish curry from the Seashore Garden café. Perhaps it was only natural that he would choose a seafood curry, for his favourite or maybe he was overwhelmed with finding such a great, but unexpected dish. Either way, we think it is a good choice and a very welcome addition to the menu at The Seafood Restaurant.
Thank you India for a mind blasting curry extravaganza!
Full recipes for all the other dishes that featured tonight are available in the book, including Rogan Josh, Mulligatawny Soup, Sambar, Prawn Curry and more.
This summer, you can also meet Rick in person and get your copy signed at his book-signings or recreate his Indian dishes on our cookery courses at Padstow Seafood School.