Rick Stein's Indonesian seafood curry recipe
14.06.2021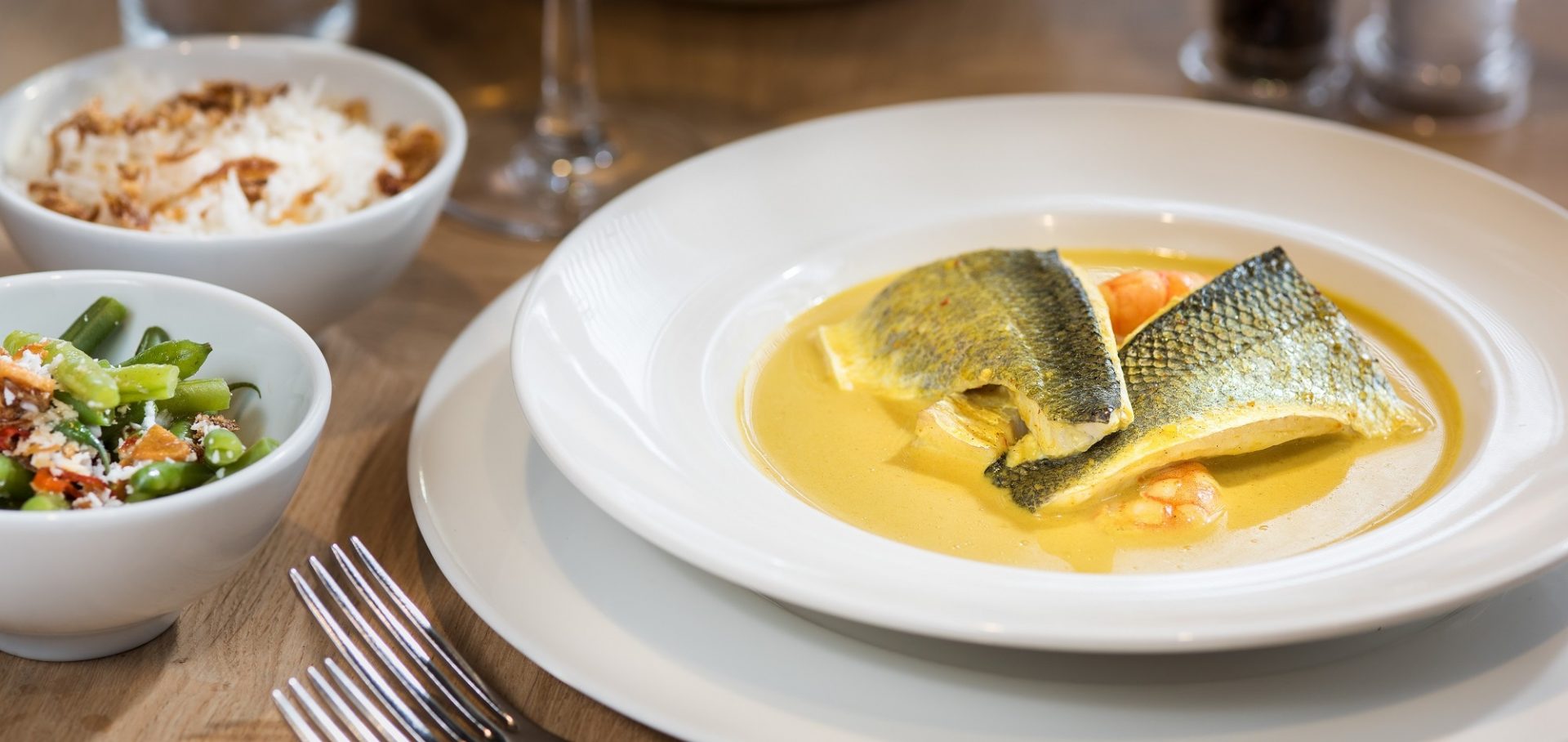 Indonesian seafood curry is one of Rick's most iconic dishes and always a popular choice on our restaurant menus. The combination of lightly spiced curry with glorious seafood and a unique green bean and coconut salad really does make for a memorable foodie experience. Cook the recipe at home or if you're short on time, let us do the hard work and order our Stein's at Home Indonesian curry box straight to your door.
Serves 4
400g fish fillets, such as monkfish, John Dory, gurnard or sea bass
250g medium squid (pouches about 18cm long)
12 large raw prawns
1 tsp salt
Freshly ground white pepper
1 tbsp lime juice
200g (8 heaped tbsp) Indonesian spice paste
2 tbsp vegetable oil
4 kaffir lime leaves, torn into small pieces
2 fat lemongrass stalks, halved and bruised
120ml Asian chicken stock or bought chicken stock
250ml coconut milk
Basa gede Indonesian spice paste
1½ tsp black peppercorns
½ nutmeg
25g candle nuts, macadamia nuts, cashew nuts or roasted peanuts
1 tsp sesame seeds
60g shallots, roughly chopped
25g peeled fresh ginger, roughly chopped
40g peeled galangal (or extra ginger), roughly chopped
15g peeled fresh turmeric, chopped, or 1 tsp turmeric powder
3 fat lemongrass stalks, core chopped
20g garlic
2 medium-hot red chillies, seeded and roughly chopped
3 red bird's eye chillies, roughly chopped
1 tsp shrimp paste
1 tbsp palm sugar
1 tsp salt
3 tbsp vegetable oil
Juice of ½ lime
Green bean and fresh coconut salad
250g fine green beans, cut into pieces
6 tbsp vegetable oil
25g shallots, sliced
15g garlic, sliced
1 medium-hot red chilli, seeded and chopped
150g fresh coconut, finely grated
100g beansprouts
2 kaffir lime leaves, shredded
2 red bird's-eye chillies, thinly sliced
Method
For the curry paste, put the peppercorns, nutmeg, nuts and sesame seeds into a spice grinder and grind to a fine powder. Tip into a mini food processor, add all the other ingredients and blend everything into a very smooth paste.
For the green bean salad, cook the green beans for 2 minutes in boiling salted water, drain and refresh under cold water. Dry well and put into a bowl. Heat the oil in a small pan, add the shallots and fry until crisp and golden. Lift out on to kitchen paper. Add the garlic and do the same. Add the chopped red chilli and fry for just a few seconds. Add the fried shallots, garlic and chilli to the beans in the bowl, along with the coconut, beansprouts, lime leaves and sliced bird's-eye chilli. For the dressing, blend the shrimp paste with the lime juice in a small bowl, then whisk in the oil, sugar and salt. Toss everything together well and serve.
Now onto the curry – cut the fish into 3–4cm chunks, prepare the squid and peel the prawns. Put the fish, squid and prawns into a shallow bowl and sprinkle with the salt, some pepper and the lime juice. Mix together well. Add half the spice paste and rub it well all over the pieces of seafood.
Heat the oil in a large pan over a medium heat. Add the remaining spice paste and fry gently for 2–3 minutes until it starts to smell fragrant. Add the kaffir lime leaves, lemongrass and stock and simmer for 1 minute.
Add the pieces of fish (not the squid or the prawns) to the pan and leave to cook for 1 minute, then turn them over and cook for a further minute. Add the coconut milk to the pan, together with the squid and prawns, and simmer for 2 minutes. Season to taste with a little more salt and lime juice and serve with your favourite rice.
ORDER STEIN'S AT HOME
If you love Rick's Indonesian curry, but don't have the time to make it from scratch, order Stein's at Home and we'll do all the hard work for you. Enjoy it as part of a three course menu that's available for nationwide delivery.