Rick Stein's Long Weekends: Episode 10, Palermo
15.12.2016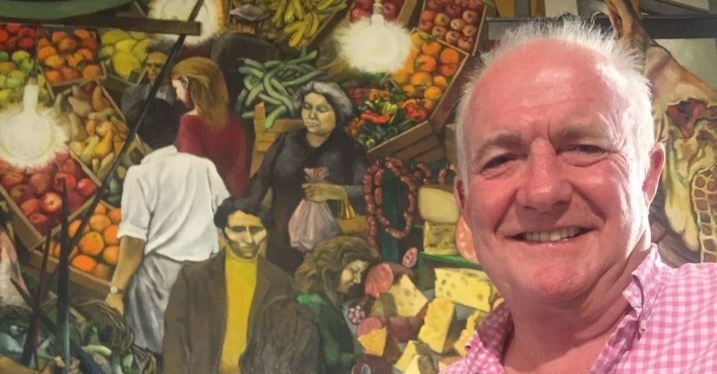 Having visited Thessaloniki last week, the final destination that Rick explores for his Long Weekends series is Palermo, the capital of Sicily which is famous for its history and culture as well as its culinary delights.
The episode starts with Rick checking-in to his hotel, the Grand Hotel Piazza Borsa, before heading to the Vucciria market with his crew to sample some of the delicious Italian street food, like boiled octopus, deep fried sardines, and plenty of beer, of course.
Day two begins with Rick tackling the breakfast buffet, a task he really seems to relish, and who can blame him when treats like honey and almond cake, pear flan and the classic Italian pastry of cannoli are on offer. This is followed by a trip to the small seaside resort of Mondello – could be one to add to the bucket list… Lunch was a busy affair at Trattoria Simpaty, with Rick sampling a range of local delights, including spaghetti vongole, octopus, clam and mussel salad, panelle, baby octopus cooked in tomatoes and red wine and calamaretti, all washed down with some chilled Grillo wine. Back in Padstow Rick cooked pasta alla pesto trapanese – a fabulous simple dish with almond, basil and pecorino pesto. One to try out for a mid-week dinner, we think. Rick then meets Viviana Randazzo to enjoy the mouth-watering dish of pasta al forno – typically eaten in Sicily for Sunday lunch.
Rick begins day 3 with a bout of culture, by first wandering around the very peaceful Palermo Cathedral, which was built in 1185 on the area of an earlier Byzantine basilica, followed by a trip to the Mercato delle Pulsi antiques market. Food wise, he gets to enjoy some sfincione, which is a thick crust Sicilian pizza before visiting Spinnatos for a dish featured in his Mediterranean Escapes book, spaghetti with tomatoes capers and mint. After lunch is was time for a dash more culture, as Rick's calls into Teatro Massimo, the largest opera house in Italy, what an amazing piece of architecture! Chicken Marsala is next on the menu, with Rick cooking up the recipe in his cottage. He mentions, how good it is to see this old classic coming back into fashion after many years off the menu!
The last day of Rick's long weekend in Palermo starts with a trip to Capo market to sample a Fritolaro spleen sandwich – a real legend of Scililian region of Italy. The meat is boiled and then served in a roll with lemon and salt, this was the original street food in Palermo. Would you like try it? Next up, Rick goes to see the famous Vucciria painting by Renato Guttuso. Painted in 1974, it represents Palermo's lively market of the same name, that Rick explored on day one. This was followed by a bite to eat at Buatta restaurant, with a Sicilian pasta dish of cauliflower arriminati on offer. What better activity to enjoy after lunch, that a wander around a beautiful Baroque square, like Quattro Canti. The last stop in Palermo, with Duchess Nicoletta Polo in her beautiful home, Palazzo Lanza Tomasi, it was time to learn about making panelle, Sicilian chickpea flour fritter – normally eaten as street food in a roll or as a sandwich. Delicious.
If you've been inspired by Rick's Long Weekends, why not treat yourself to a signed copy of the accompanying book here. Or if you'd love some extra guidance from our expert chefs, come to Rick Stein's Cookery School for a one or two day Long Weekends course. For more information, click here.