RICK STEIN'S LONG WEEKENDS: EPISODE 2, Reykjavik
29.04.2016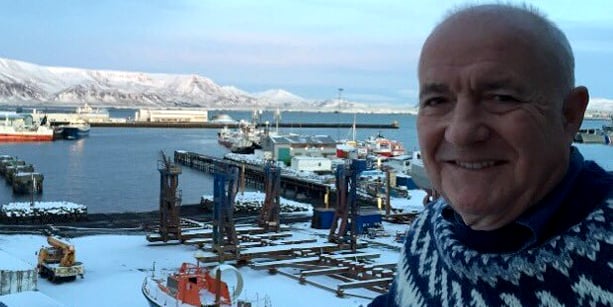 This week, an excitable Rick visited Reykjavik, Iceland's coastal capital and home to the National and Saga museums, tracing Iceland's Viking history. After a beer and chat with Ymir Björgvin Arthúrsson at Micro Bar, Rick took a walk by the harbour in anticipation of finding the perfect cod. He soon found it at the Icelandair Reykjavik Marina Hotel, where he watched chefs pan cook cod.
Conscious that his attire was attracting a lot of attention, Rick visited the Nordic Store in Lækjargata to buy some more appropriate clothing to blend in with the locals. Kitted out, he joined Mayor Dagur Bergþóruson Eggertssonat at Reykjavik City Hall for a breakfast of waffles with rhubarb jam and cream.
Next, Rick visited the Sun Voyager sculpture by Jón Gunnar Árnason, made to commemorate the 200th anniversary of the city of Reykjavík which led to Rick thinking about an old Anglo – Saxon poem:  The Seafarer by Ida. L Gordon.
Rick then went on to view the three large murals by Guido van Helten on the Loftkastalinn building in the old west side of Reykjavik. The murals were inspired by images from the archive of the Reykjavik museum of photography from the 1961 screen play, 'No Exit' by Jean Paul Satre.
Ready for his next dish, Rick visited Matur og Drykkur Restaurant to try their halibut soup, before taking us back to his cottage in Padstow where he showed us how to make a simple cod gratin with bearnaise sauce.
Back in Iceland, Rick was driving through the snow contemplating the 'cuisine of wants' in Iceland, before enjoying a secret lagoon swim. He then had lunch with Ymir, enjoying chicken liver terrine with dandelion syrup, hot spring hard boiled eggs with birch smoked salt and smoked trout paté with fennel and beetroot chutney and chunky basil pesto. At the Fontana Spa, he then tried Icelandic rye bread, baked in volcanic sand, before visiting the Strokkur Geyser, and getting excited about seeing the Northern Lights.
Next, Rick met Ragnar Eiriksson at Dill Restaurant where he tried wild goose with crowberries on a bed of cauliflower pureé. The weather takes a turn for the worse and Rick had a conversation with his driver about the impending storm. At his next location,  Bjarteyjarsandur Sheep Farm Thorrablot, he tucked into roast lamb marinated in blueberries. Back in Rick's kitchen in Padstow, Rick cooks his own lamb dish: breaded lamb chops with spiced red cabbage.
Then Rick met with Elisabet Skuladottir at Sea Baron Restaurant to try grilled fish skewers or "stinky skate" as they were referred to. He then visited the Hallgrimskirkja Lutheran Church and spoke about Leif 'the lucky' Eriksson, an Icelandic explorer considered by some as the first European to land in North America before Christopher Columbus.
Next on Rick Stein's long weekend, he visited one of the most popular tourist attractions in Iceland, the Gullfoss Waterfall, located in the canyon of the Hvítá river in southwest Iceland. Then he visited the Fjorubordid Restaurant where he enjoyed langoustine soup and fried langoustine tails. Rick was so impressed with the soup, he showed us how to make it at his home in Padstow.
Rick's final stop this week was at Íslenski Barinn, the Icelandic Bar, where he tucked into fermented shark and brennivin, a clear, unsweetened schnapps that is considered to be Iceland's signature distilled beverage.
The episode ends with Rick musing on his long weekend in Reykjavik.
Join Rick next week from 9pm on BBC2 to see his next Long Weekend in Berlin.