RICK STEIN'S LONG WEEKENDS: EPISODE 3, Berlin
06.05.2016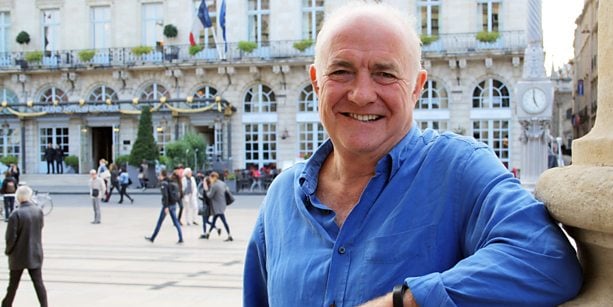 After a whirlwind adventure in Reykjavik including fermented shark, stinky skate skewers and roasted lamb with blueberries, Rick took us on a Long Weekend to Berlin in this evening's episode of Rick Stein's Long Weekends.
The episode started with Rick checking into the intriguingly named 25 Hour Bikini Hotel, before heading to the Nobelhart and Schmutzig Restaurant  with Billy Wagner to try smoked eel with jelly and radish shoots, barbecued baby leeks with speck lard and crushed fennel seeds, barbecued and oven baked saddleback pork neck with blanched salad leaves, crushed pine needles and reduced pork stock and lightly seared wild trout with smoked mashed potato and puréed kale.
Next on the menu is a German classic, a Currywurst enjoyed at Konnopke's Imbiss, as well as a doner kebab and the history of this food in Berlin. After an emotional conversation with Hans, his taxi driver on how Hans was separated from his grandparents, Rick spoke about the renaissance of East Berlin after the collapse of the Berlin Wall. Rick's next stop was La Soupe Populaire Restaurant where, with his guide, Per Muerline, he tucked in to königsburg klopse, a meatball speciality.  Taking us back to his kitchen in Padstow, Rick cooks beetroot marinated salmon with cucumber, apple and horseradish salad.
An ever amusing conversation ensued with Rick and David Pritchard discussing 'Noir' Berlin, the dramatic street art across Berlin, before Rick took a ride in the exotic looking Trabant Safari.
He then went to the Cookies Cream restaurant where he tried puréed sunflower seeds and Jerusalem artichoke flam with liquidised watercress and parsley oil, potato strips topped with mashed potato and creamed spinach, Noilly Prat, radishes, spinach juliennes, chopped pistachios, sesame dressing and a fried egg. In true German style, Rick then frequented the Hofbrauhaus and got stuck in to sampling the local brews.
Back in his cottage in Padstow, Rick showed us how to make a bacon joint with sauerkraut and split pea purée.
Then Rick tried smoked fish, oysters, smoked eel and horseradish sauce at the KaDeWe department store, before heading to the Hotel Adlon to sample the Kaiser cup cocktail and the prairie oyster cocktail.
Next, Rick visited Hitler's bunker with Nick Jackson before trying eisbien steamed pork knuckles, stuffed cabbage and burgerklopse at the Zurletzen Instanz Restaurant.  Heading back to his Padstow kitchen for the last time in the episode, Rick cooks a German apple cake.
After visiting a few more spots in Berlin, learning a lesson in the perils of jaywalking in Berlin and seeing Russian tanks near Brandenburg gate, Rick visited guerilla chefs, Markus and Christian to enjoy roast beef eclairs with hot consommé, scallops with mung beans, black lentils, yellow split peas, apple vinegar, crispy bacon, Japanese green tapioca and fresh shoots, sausages on purée of chervil roots, apricot mustard, fried black radish with a salad of shredded red and white cabbage, carrots and vinegar and finished with a decadent dessert of chocolate brownie with passionfruit, chocolate mousse, apples and pomegranate sauce, crumbled dark chocolate with roasted almonds and chocolate toffee.
Don't miss Rick Stein's Long Weekends in Vienna next week on BBC2 at 9pm.