RICK STEIN'S LONG WEEKENDS: EPISODE 4, VIENNA
13.05.2016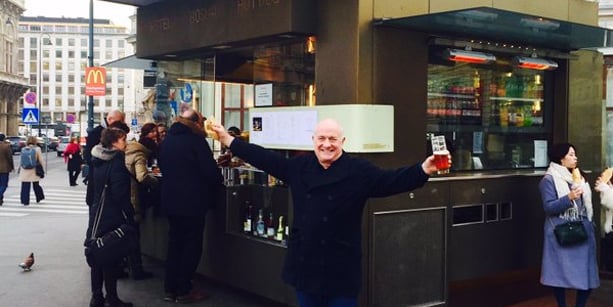 After a trip to Berlin which included smoked eel with jelly and radish shoots, königsburg klopse and bacon joint with sauerkraut and split pea purée, Rick took us on a Long Weekend to Vienna in this evening's episode of Rick Stein's Long Weekends.
The episode started with Rick checking into Motel One and sharing with us his first impressions of Vienna's architecture, the Danube River and the Johann Strauss statue in Stadtpark before heading to meet Martina Hohenlohe at Hotel Imperial, then Executive chef, Rupert Schnait who cooks wiener schnitzel. Taking us back to his kitchen in Padstow, Rick cooks Viennese herring and potato salad.
Rick enjoys breakfast at the hotel and listens to Mona, the singing waitress. He speaks about Colonel Kulczycki and his discovery of coffee beans and Vienna's first coffee house before meeting James Mowlam at Landtmann Coffee House where he tucks into some apple strudel with vanilla sauce.
He then notices Vienna's politically correct traffic light symbols before meeting with Christian Wanek at Rudi's Beisl Restaurant where he tries zwiebelrostbraten, an all time favourite dish in Austria and Rick visits Mozarthaus and talks about composer Mozart and the world famous opera, "The Marriage of Figaro". His next stop is at Plachutta Restaurant where he tries tafelspitz.
Having had breakfast at the hotel, Rick meets with Dietmar Muthenthaler, head pastry chef at Demels where he tries apple strudel and sachertorte. Rick then takes us back to his kitchen in Padstow where he cooks apple strudel.
After seeing some of Friedensreich Hundertwasser's interesting architecture, Rick travels to Fritz Wieninger vineyard where he enjoys some Wiener Gemischter Satz wine. His next stop is Naschmarkt, Vienna's most popular market, where he tries some sauerkraut. He then meets with Stefanie Herkner and tries some stuffed cabbage sarma.
Rick visits some Viennese cafes, explores the Belvedere Museum which has the largest collection of Gustav Klimt's paintings and went to Trzesniewski Restaurant where he tried speck, bacon & egg and crab sandwich. Next, Rick visits Meixner's Restaurant where he tries goulash, before taking us back to his cottage in Padstow to show us how to cook goulash. The episode ends with Rick attending a Strauss Concert at Palais Auersperg.
Don't miss Rick Stein's Long Weekends in Bologna next week on BBC2 at 9pm.