Rick Stein's Long Weekends: episode 5, Bologna
20.05.2016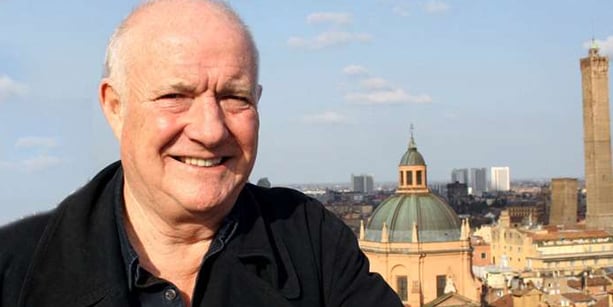 We've had so much fun following the first part of Rick's Long Weekends and with an announcement this week that the series has been shortlisted for the TV Choice Awards, we get the feeling you have been enjoying them just as much as we have.  After journeying through Bordeaux, Reykjavik, Berlin and Vienna, Rick's last Long Weekend took us to Bologna.
After checking into the hotel at Quadrilatero al Fresco, Rick tucked into a classic Italian combination of Prosciutto and cheese before musing on the streets of Emilia-Romagna in Bologna and his first experience of Bologna: Bolognese sauce.
At the Scaccomatto Restaurant with Mario Ferrera, Rick tried Parmesan and sweet onion raviolini, before heading to Mercato delle Erbe with Tim Mawn to sample stuffed squid at Banco 32 Restaurant.
Back in his kitchen in Padstow, Rick showed us how to make our own Italian cotoletta Bolognese.
After roaming the unfinished cathedral in Piazza Maggiore, a strong Espresso coffee is in order at Café Aroma to set Rick up for the climbing Asinelli Tower and an ever comical chat between Rick and producer, David Pritchard, at the whispering walls. Rick also settles into a conversation with university students on the piazza.
At Le Sfogline, Rick tried the classic spaghetti alla Bolognese before taking us back to Padstow to show us how to make tagliatelle with sausage ragu. Next, Rick visited Caseificio Santa Lucia to try some Italian Parmesan cheese, then headed to Agri Truismo La Fenice to tuck into grilled pork steaks.
The next stop on Rick's Long Weekend in Bologna, was to the Biassanot Restaurant for a dish of roast rabbit stuffed with frittata and Parma ham, before he visited the university and the Archiginnasio building.
Enrica Lazzarini then took Rick to Osteria Del Sole to try rosa di Bologna prosciutto, mostarda Bolognese, a jam made of quinces and plums, and Crescentine, a thin 4-inch, round shaped bread.
Rick's final stop in Bologna was to Ciaccos Restaurant with Ricardo Cattalani where he tried gurnard with passatelli, a pasta formed of breadcrumbs, eggs and grated Parmesan.
The episode ended with Rick showing us how to make panna cotta with pistachios.
The next part of Rick's series will be out this autumn along with the much anticipated release of his book. To be among the first to know when we start taking orders, fill out the form below.