Rick Stein's Long Weekends: Episode 8, Cadiz
25.11.2016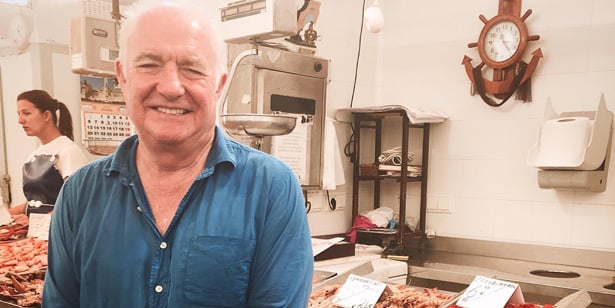 Having explored Copenhagen last weekend, this week we take a trip to Cadiz for a Long Weekend to sample some of the delicious food that Spain has to offer…
The episode started with Rick checking into his hotel, the Hotel Playa Victoria Palafox, where he spoke to the hotel receptionist about food in Spain. When in Cadiz, Rick takes a trip to Casa Manteca Bar where he tries white anchovies followed by a visit to Taberba el Tio de la Tiza for some grilled mackerel with piriñaca. A trip to Bajamar Restaurante Cerveceria to sample some delicious churros, hot chocolate and coffee is followed by a visit to Mercado Central de Abastos, a local Cadiz market, where he finds a snail stall containing live snails. Rick then continues to explore Cadiz by taking a trip to Mercado Central de Abastos, one of the oldest covered markets in Spain where he samples a variety of fish and shellfish including clams, winkles, mantis shrimps, murex, razor shells, moray eel and tuna. Rick then goes onto visit Gadisushi and tries a tuna sashimi and manzanilla dish, followed by a trip to Freiduria Las Flores, an authentic fried fish restaurant, where he tastes fried pescado frito anchovies, squid and dogfish. Back in his kitchen in Padstow, Rick shows us how to cook a la rota. Next up Rick is treated to some sherry at Bodega Tradicion, a winery in Jerez where he meets with Lorenzo Garcia-Iglesias Soto. To end a great day of food, Rick watches the sunset over Cadiz.
Having had breakfast at his hotel, Rick talks about the Cadiz city walls and Napoleon's siege. He then takes a trip to Ultramar & Nos restaurant where he meets with Pancho' Jimenez Yañes and samples a variety of stews including chorizo and red bean, chorizo and chickpea and cazon and tuna. Rick then samples a variety of arroz dishes at La Marea Seafood, a restaurant specialising in Mexican seafood. Back in Padstow at his cottage, Rick shows us how to cook arroz verde.
A trip to Ventorrillo el Chato to meet Jose Manuel Córdoba and sample some baked tuna marinated in red wine and tortillas de camerones (shrimp fritters) is followed by a visit to the northwest of Cadiz to Sanlucar de Barrameda, where Rick samples patatas aliñadas (cooked potatoes and tinned tuna). He then continues to explore Sanlucar de Barrameda by visiting the fishing harbour where he meets Javier Garat Pérez and samples some boiled Langostinos. To end his long weekend Rick takes a trip to Peña la Perla Flamenco where they host flamenco followed by Rick showing us how to make huevos a la flamenco back in Padstow at his cottage.
Don't miss Rick Stein's Long Weekends in Thessaloniki on the 9th December on BBc2 at 9pm, and if you want to try out the recipes yourself, order a signed copy of the accompany book here.