RICK STEIN'S LONG WEEKENDS: EPISODE 9, THESSALONIKI
09.12.2016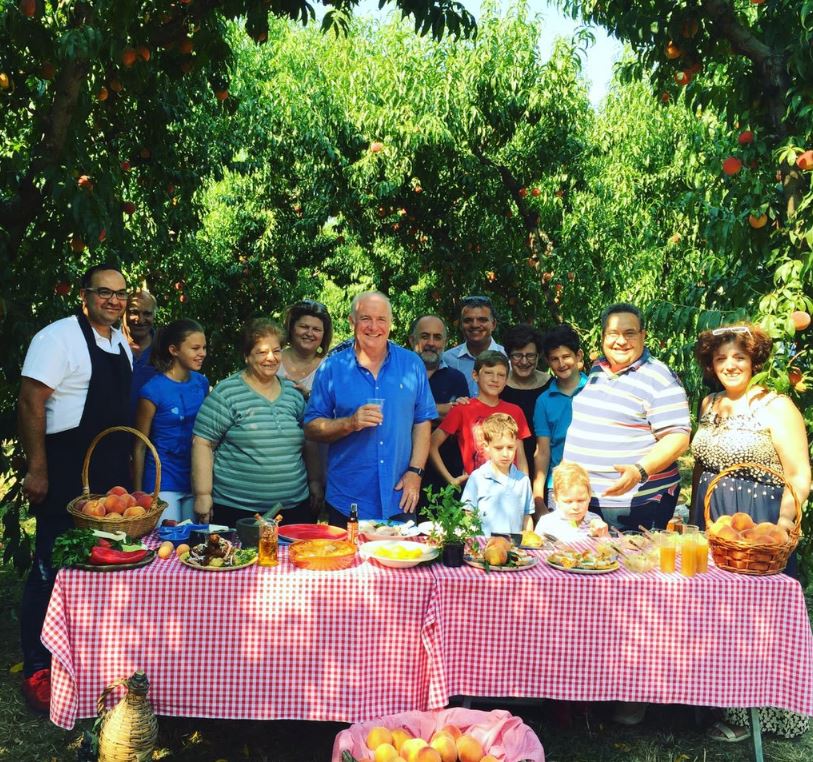 Having explored Cadiz a couple of weeks ago, this week we take a trip to Thessaloniki for a Long Weekend to sample some of the delicious food and drink that Greece has to offer…
This episode starts with Rick checking-in to his hotel, Electra Palace Hotel, which is located in the city centre on the famous Aristotelous Square. Facing out towards the sea of the Thremakios Gulf, the hotel has a byzantine-inspired exterior and is known as one of the city's architectural gems. Rick experiences a mime artist before grabbing a drink and heading to bed, ready for the next few days ahead of him.
Day 2 begins with trying a cup of Greek coffee, before heading to the Kapani (Vlali) Market – the oldest public market in Thessaloniki. Selling everything from fish, meat and spices to clothes and decorations, the market is known for having everything under one roof and is extremely popular because of its low prices. The aromas of spices and freshly ground coffee is one of the first things to notice, as well as its array of foodie treats. Rick samples gurnard, blita and loukanika – an orange and leek Greek sausage. A trip to The Arch of Galerius and Rotunda is next, some of the most popular Roman structures and destinations in the city of Thessaloniki for both tourists and locals alike. This is followed by a visit to Elenidis Bakery to try the famous trigona pastries, otherwise known as the Panorama triangles. These are a regional speciality from the district of Thessaloniki, Panorama, and were created back in 1956 by John Elenidis. Rick tries the crispy and golden filo triangles soaked in syrup and filled with creamy custard, at the bakery where it all began. On the menu back in Padstow, Rick cooks up Kozani chicken, featuring onions, juicy prunes and a smokey flavour. He then takes a trip to Ellinikomeze restaurant to sample stuffed onions whilst meeting Deputy Lord Mayor, Spiros Pengas. Rick finishes the day off with a trip to see the Zongolopoulos Umbrellas, a famous sculpture on the waterfront created by George Zongolopoulos in 1997.
The third day kicks off with breakfast at the hotel, followed by a trip to see the White Tower, a monument and museum on the waterfront of the city. Rick meets Greek cook, Vefa Alexiadou, before returning back in his kitchen to create a veal and aubergine stew. Back in the Thessaloniki region, he finds himself at the Axios Deltra National Park to try his hand at harvesting mussels. The park is known to be one of the most important wetland systems in both Greece and Europe, with the vast landscape providing beautiful scenery. Rick then takes a trip to the town of Chalastra to visit Doukas Taverna, where he tries Mussel Pilaf, a warming Greek dish made with rice and mussels. After meeting Georgios Bazmadelis, Rick and the crew enjoy a lunch  of sardines in vine leaves, rock samphire salad, fava santorini and a haloumi cheese salad – the perfect way to the end the day.
The last day of Rick's long weekend in Thessaloniki starts with breakfast and a taste of a Keema Bougatsa at Filipos Bantis, a sweet custard filled pastry. He then visits Aristou in the Ladadika area to sample salt cod and chips – a must visit for Rick who loves fish and chips back home in Padstow. After learning about peach harvesting and trying a plethora of peach dishes in an orchard, Rick tries his hand at a peach pie back in Padstow. Finally heading to Agyrovoli Taverna on Eponomi Beach, here Rick samples the last dish on his Greek culinary adventure, grilled bream and bass.
Don't miss Rick Stein's Long Weekends in Palermo next week on BBC2 at 9pm, and if you want to try out the recipes yourself, order a signed copy of the accompanying book here. Or if you're feeling inspired and want to get in the kitchen, come to Rick Stein's Cookery School for a Long Weekends course. For more information, click here.