Sandy toes and salty kisses – 5 romantic places to visit in Cornwall
28.01.2014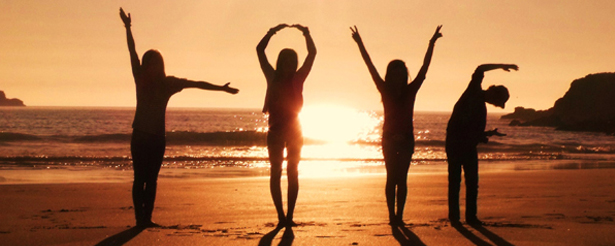 With hidden coves, secret sandy beaches and the romanticism of Daphne Du Maurier's Cornwall based novels, sometimes you can't help but get swept up in the romance of Cornwall. To help celebrate Saint Valentine's Day, here are five great places for a little romance.   
The Rumps and Pentire Head
On the north Cornwall coast between Polzeath and Port Isaac lies Rumps Point and Pentire Head. Walk along this dramatic coastline to seek out seals or a pod of dolphins. Day dream on top of the aptly named 'Rumps' and reflect at Pentire Point as you read the famous poem 'For the Fallen', composed on these cliff by Laurence Binyon.
Porthcurno
Just three miles from Lands End is the beautiful cove and beach of Porthcurno. If you don't fall in love with the turquoise seas you will with its history. In 1870 the picturesque valley became the epicentre of global telegraph communications when the first undersea telegraph cable was connected between Porthcurno and Bombay. So as you sit on the beach getting sand between your toes you can fantasise about the many messages being sent underneath your feet.
Fowey
Daphne du Maurier fell in love with Fowey and the magical surrounding landscape using the hidden coves, historic villages and striking scenery as inspiration for many of her novels. As you wonder the narrow streets of the old town, taking in the medieval and Georgian buildings you can enjoy views of the estuary and the harbour scattered with yachts.
Lanhydrock
Owned by the National Trust, Lanhydrock is a magnificent late Victorian country house with beautiful gardens and wooded estate. Stroll around the extensive gardens and find a hidden corner for an accidental embrace and tour the magnificent house to indulge in the comfort of 'upstairs' living.
Fal River
The beautiful Fal River runs through an Area of Outstanding Natural Beauty stretching from Truro to Falmouth and encompassing the unspoilt beauty of the Roseland Peninsula. Whether you enjoy an invigorating wildlife watching sea safari or a gentle cruise exploring the secluded coves and deserted beaches, the FalRiver is sure to inspire you.