Stein's Stories: Andrew
11.04.2022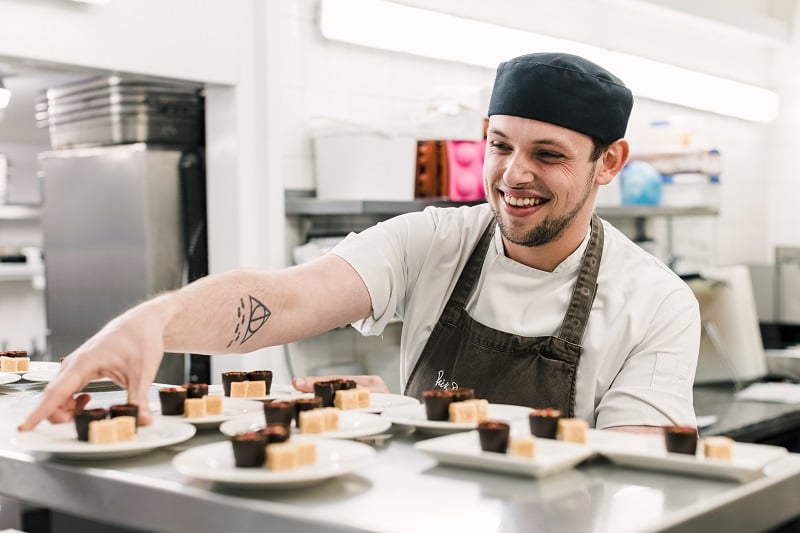 Meet Andrew, our newly promoted Sous Pastry Chef at The Seafood Restaurant
Andrew joined our team at The Seafood Restaurant straight after college in July 2018 as our Commis Pastry Chef.
Born in London, he moved to Devon when he was 6 where he spent the rest of his childhood. It's here where his passion for great food started when he was selected to study at the Michael Caines Academy at Exeter College. Whilst his studying, he met our former Head Pastry Chef, his future mentor, Stuart Pate and Stephane Delourme – who often inspire the college students at an annual Rick Stein takeover.
Since joining The Seafood team in 2018, Andrew quickly rose up the ranks from starting out as Commis Chef to becoming Sous Pastry Chef.
Andrew enjoys experimenting with desserts, but his absolutes favourite creations are the petit fours and chocolate fondants – which our guests at The Seafood always rave about.
Away from the kitchen, Andrew enjoys running and was planning to take on the London Marathon, before variously lockdowns halted the race. He hopes to take on the London Marathon in the coming year.
During lockdown, Andrew kept busy learning to speak Spanish fluently, with the help of his Spanish roommate.