The Great British Bake Off top tips: Cake week
05.08.2015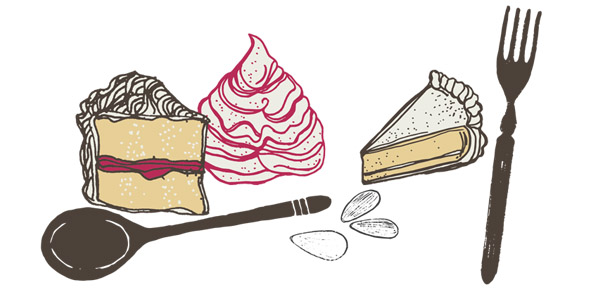 The BBC programmers have excelled themselves this week, delighting foodies everywhere with the launch of series six of the Great British Bake Off airing just before we watch Rick's new TV adventures, From Venice to Istanbul two days later on Friday 7th August.
Episode one sees the bakers put through their paces as they try and create a Madeira cake, a frosted walnut cake and for the show stopper, a black forest gateau. We asked our head pastry chef, Stuart Pate, for his top tips for this week's challenges.
Madeira cake
Top tip for making Madeira cake is to have your ingredients at room temperature. Don't beat the sugar and butter too much, just enough so they are nice and fluffy. Add your eggs slowly one at a time allowing them to be beaten in before adding the next. Finally, if your batter splits, add a tablespoon of flour to recover it.
Frosted walnut cake
When making the meringue topping for this, use older egg whites as they are more broken down which means they don't over-rise and have a lovely finish. Don't over beat your egg whites and add your caster sugar as it reaches a ribbon consistency stage. This will guarantee a smooth, firm and glossy meringue.
Black forest gateau
This dessert was traditionally made in Germany to celebrate a 'May Day' style celebration in a small town and red cherries were used not black. The young girls of the town would dress in hats with red balls on and the old maids would wear hats with black balls on them, this is where the red cherries originated from. As fashions changed in the 1960's and 1970's black cherries were used instead.
To make a real showstopper black forest gateau, I would make a nice chocolate mousse instead of the usual Chantilly cream and mix black cherries into it, then smother this between the chocolate Kirsch liqueur soaked sponge layers.
Tweet us your top tips to @TheSeafood and if you have any questions, post them in the comment section below.