The Great British Bake Off: dessert week
26.08.2015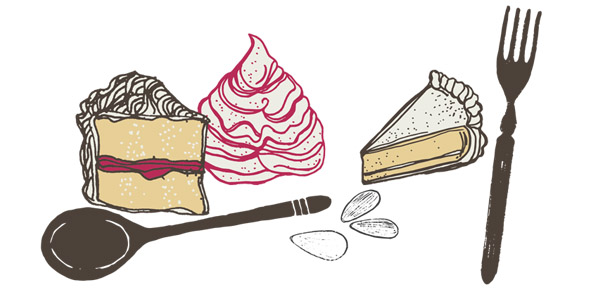 It's dessert week on the GBBO this week with crème brûlée as the signature challenge, a Spanische windtorte from Austria as Mary Berry's technical challenge and a three tier baked cheesecakes taking centre stage for this week's show stopper. Here's Stuart's top tips for this week.
Crème brûlée
We're quite lucky at The Seafood Restaurant as we have a a special oven that cooks these to perfection, plus we can use a blow torch to finish off the top, unlike the bakers this week who can only use a grill. My top tip for a crunchy top would be to not use too much sugar. We use a dessert spoon full and sprinkle it on top in an even layer. Turn the brûlée as you're grilling the top to make sure it's nice and even. You should be able to still see the brûlée through the sugar.
Spanische windtorte
I have to admit, I haven't heard of this one before, but it seems heavily based around meringues. I'd recommend whipping your egg whites to peaks before adding the sugar, then turning down to low and adding the sugar near the end a bit at a time. From experience, this seems to give a better meringue that's glossier and fuller. This recipe relies a lot on the meringue not breaking so the cream and fruit stay inside the cake, so make sure you don't over whip your egg whites. This warms up the sugar which can cause the meringue to collapse and break.
Baked cheesecake showstopper
I've got a couple of tips for baked cheesecake. Firstly, add a bit of corn flour to your cheesecake mix, this stops the cheesecake from cracking, which will make them easier to stack. My second tip is to place your cheesecake tin on a wire rack on top of a deepish tray filled with water. This will create steam as you cook helping the cheesecake to bake and also not dry out.  An 8 1/2 inch tin should take about 50mins. To see if it's done, shake the tin slightly, you should get a 50p piece sized wobble in the centre of the cheesecake. Switch off the oven and leave in there for about 2 hours to set. A luxury the GBBO bakers might not have!