Top tips for perfect homemade bread
02.05.2014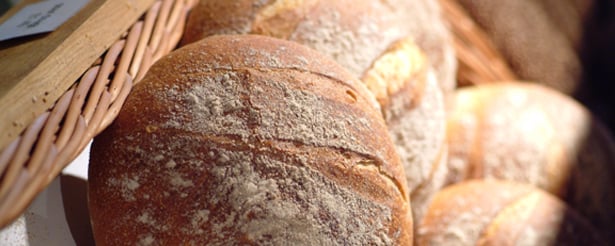 In May we celebrate sandwich week. It was some 250 years ago when the 4th of  Earl of Sandwich called for his servant to bring him some cuts of beef between slices of bread, he could hardly have imagined that his request would lead to a revolution in eating habits.
Today we eat some 11.5 billion sandwiches each year, and you might be surprised to hear that we're a big fan too. In our sandwiches we love to use our own freshly baked bread and they must be well packed with plenty of filling and flavour.
At Stein's Deli we use our own sourdough stick to create sharing sandwiches – and with fillings including salt beef with dill pickle or crayfish tails with salsa verde, they are perfect for a family picnic by the estuary.
This glorious dark crusted sourdough stick is made with wheat flour, rye and our 13 year old starter. With age, this starter has acquired great character and a deep satisfying sourness. Our baker, Paul Tippett takes a small quantity with him whenever he goes on holiday in case anything should go wrong with the main one!
If you've ever tried to make bread at home, you might have finished feeling a little deflated (both you and the bread perhaps!), but here are some simple tips to follow for the perfect bread.
Try to use good quality bread flour as this has higher gluten levels and gives better results.
Don't add milk, margarine or salt to the initial yeast mixture.
A pinch of sugar can help with the rise process.
When rising, keep the dough away from drafts and sudden changes of temperature.
For the perfect crusty loaf, put a small oven-proof dish half filled with water inside the oven whilst baking.
Happy baking and don't forget to tell us about your favourite sandwich fillings.