Top tips for preparing & cooking mussels | Alex Clark
04.03.2015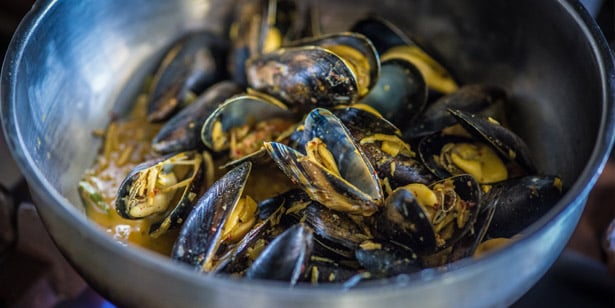 This month it's our annual Beer & Mussel Festival at The Cornish Arms in St. Merryn on 21st & 22nd March. We asked Alex Clark, our head chef at the pub, his top tips for preparing and cooking mussels:
1. Buy fresh – trust your local supplier and buy your mussels locally.
2. Clean well – debeard and de barnacle your mussels using the back end of a knife
3. Check your mussels – it's important to check your mussels are still alive when cooking them. Discard any broken shells or open shells that don't close after a sharp tap.
4. Use a hot pan – hot pans create steam quicker which means your mussels will cook in no time at all
5. Get cooking! – Your mussels should be cooked within about 3 – 5 minutes – make sure they are all open before tucking in!
Finally:
A lot of mussel recipes call for wine in the ingredients, make sure you use a good quality wine. A simple rule to go by is: "if you wouldn't drink it, don't cook with it!"
If you would like more tips on how to cook mussels, take a look at Jack Stein's video here.
Need a mussel recipe? Here's Rick's mussel masala with coconut, ginger & green chillies.