Why we love Daymer Bay
23.07.2013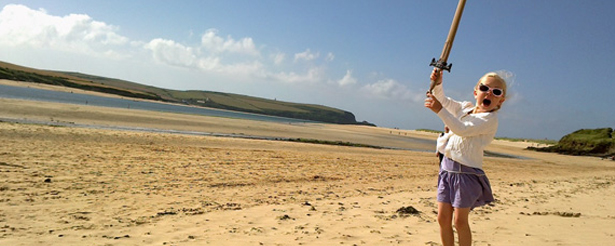 When the sun is shining there is no better place to be than Cornwall. With great beaches and fantastic local produce for picnics and barbecues, you can always be certain of a great day out.
Just across the estuary from Padstow is the beautiful beach of Daymer Bay, and whether you head there for a family beach day, a romantic walk or an evening sunset BBQ  you'll be sure to make memories.
Here are five reasons why we love Daymer Bay.
1)     You can see Padstow from the beach!
2)     From Padstow you can enjoy a very pleasant ferry ride across the estuary and then it's just a short walk to Daymer Bay. If you're staying in Padstow you can leave the car and pick up a bottle of Rick Stein's Champagne from Stein's Deli and not worry about driving!
3)     Sheltered in the estuary, the shallow waters are perfect for a paddle or swim.
4)     The beach is dog-friendly all year-round so Chalky's pals can enjoy a day at the beach too.
5)     For those that can't sit still, there are fantastic views from the walk up Brae Hill or you can explore the quaint and nearby church of St Enodoc.
Tell us your memories from Daymer Bay and let us know your favourite beach.