Wine tasting at Padstow Seafood School
26.01.2015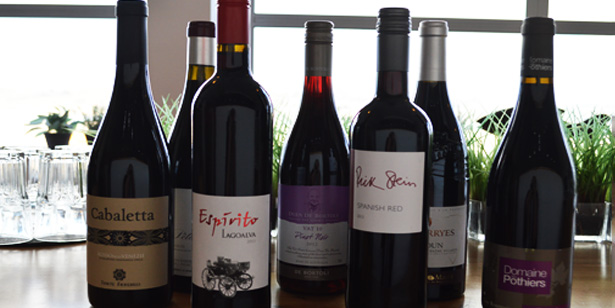 Last week our head sommeliers from The Seafood Restaurant, Ronni Arnold and Jason Weight, joined Mark Puckey and his team at Padstow Seafood School to taste some of the new dishes in our 2015  courses and pair them with the perfect wines.
Mark and his team cooked up over 15 different dishes, tasted with more than 30 carefully selected wines from The Seafood Restaurant.  We've put a few of our favourites below.
First on the menu was Mr. Singh's slow-cooked lamb curry with cloves and cardamom which features on our two day Cooking from India course.
Ronni and Jason wanted to find a wine that would work alongside the spices in this curry. The winner was a Portugese red, Espirito. Jason explained that the softer, fruit centered notes of this wine meant it paired beautifully with curry and spice. Keen to please the white wine lovers on the course, Ronni chose a Chilean Gewurztraminer, Morande Reserva. With aromas of lychees, roses and melon, this wine is great paired with spicier dishes.
A favourite dish by our sommeliers was the beautifully presented monkfish satés with a spicy peanut sauce from our one day Fish and Shellfish menu 1.
Again, the spicy kick in this dish paired wonderfully with the Gewurztraminer. Jason told us that this wine can be a hot topic of debate among diners, some people love it, whilst others find the dominant fruit content of the wine (lychees, petals and spices) too over-bearing.
The final dish of the day was stir-fried prawn, pork and squid with glass noodles, chilli and mint from our four day Ultimate Fish and Shellfish course.
The Asian flavours in this dish sent both our sommeliers reaching for the same bottle of Gros Manseng – Sauvignon Vin de Pays des Cotes de Gascogne. The aromatic blend works perfectly with the Sauvignon giving the wine a leafy, citrus nose backed by the Gros Manseng which adds a touch of melon and honey on the finish. This is also a popular choice with the Indonesian curry at The Seafood Restaurant.
If you'd like to learn some new skills in the kitchen, take a look at our courses here starting from just £40.