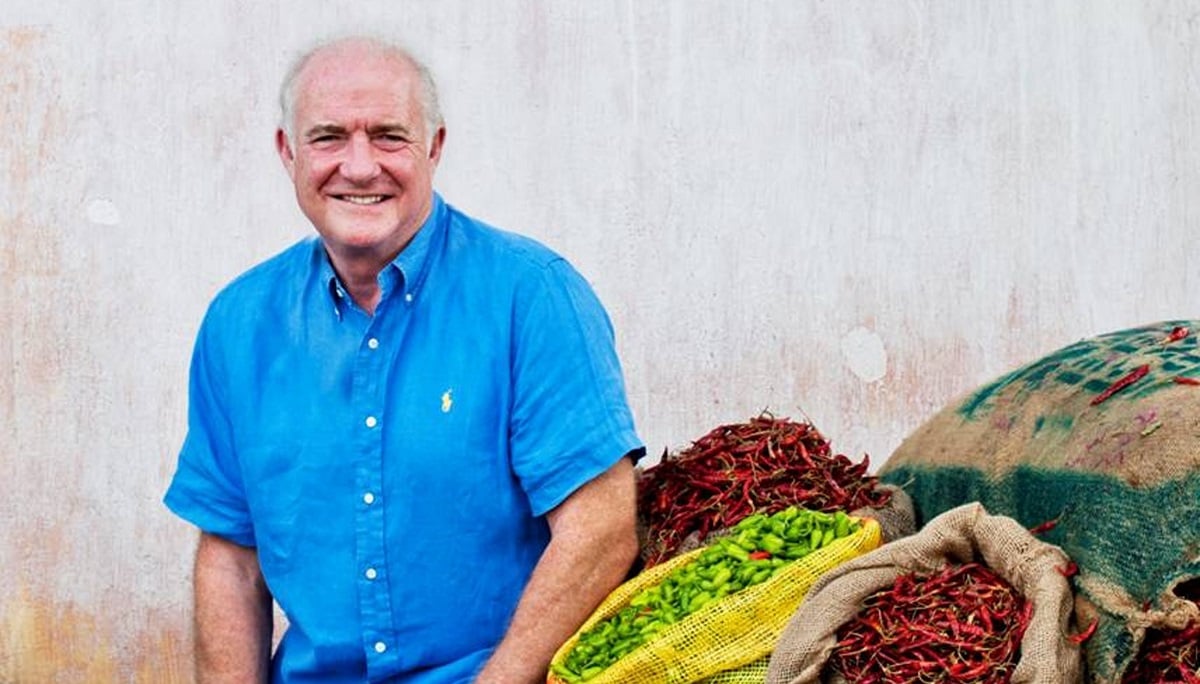 Rick Stein's India
Rick Stein's India will take you on a journey in search of the perfect curry. What makes a good curry though? Sensual spicy aromas or thick, creamy sauces? Rich, dark dals or crispy fried street snacks? Rick journeys through India to find the answer, searching this colourful, chaotic nation in search of the truths behind our love affair with its food.
"Whenever I hear the word curry, I'm filled with a longing for spicy hot food with the fragrance of cumin, cloves and cinnamon. I see deep red colours from lots of Kashmiri chillies, tinged with a suggestion of yellow from turmeric. I think of the tandoor oven, and slightly scorched naan shining with ghee and garlic. When Indians talk of their food, they talk about their life. To understand this country, you need to understand curry." Rick Stein
Get the book
Order a signed copy of Rick Stein's India, which includes all the recipes you'll ever need for the best curry nights at home with friends and family at home here.
Try the dishes in our restaurants
You can look forward to trying some of the dishes from India on our menus – including Pondicherry cod curry, breakfast bhaji, Amritsari fish, pau bhaji, vegetable makhanwala, kachumber salad and more. Choose a restaurant here.
Learn to cook the recipes
To celebrate Rick Stein's India, Head Chef Lecturer Nick at our cookery school in Padstow has put together three very special foodie experiences.
One day cookery course – £198 | Two day cookery course – £360 | Half day cookery course – £95
India Episode Guides
So that's it, Rick's Indian adventure and search for the perfect curry is well and truly underway.
It seems that when Rick hears the word curry he is filled with a longing for spicy hot food with the fragrance of cumin, cloves and cinnamon. But episode one saw him delve straight into the quest to find the perfect curry and it seems there are more complexities to curries than meets the eye.
The delicious kati rolls that featured tonight were from Nizam's in Calcutta and Rick certainly seemed to enjoy them! Who could resist the satisfying mix of freshly made paratha with a just cooked layer of omelette rolled up round a kebab and flavoured with a cumin and coriander masala plus red onions and green chilli.
Next came the cocunut prawn curry from Kewpies, Rakhi Dasgupta's famous restaurant in Calcutta. Has Rick already found his perfect curry?
The simple egg curry, coconut masala with whole eggs, that featured was cooked in the home for destitute women in Calcutta, where Rick was overwhelmed by the women's stories. Rick wasn't sure whether this recipe would appear in the series though, as apparently the cook was very badly tempered when they were filming!
When it came to the British raj curry, it appeared that the lure of his mother's cooking was just too strong, as he'd never intended to feature any curries that didn't come from India. But this curry, finished with sultanas and served with a bowl of desiccated coconut and sliced banana and chutney, definitely looked too good to not include.
Rick's search through India for the perfect Indian curry (or gravy!) continues and he started in Mumbai with the squid curry from Karkera Canteen in Fort Mumbai. Despite this 'hole in the wall' restaurant being a bit of a squeeze, Rick seemed impressed by its atmosphere – they even turn the kitchen prep tables into dining tables during lunch hour.
Thinking back to the first episode in Calcutta, Rick was very impressed by the skill and remarkable inventiveness of the master chefs on the streets in India. Tonight Rick discovered even more street food with the pau bhaji from the streetside restaurant Sardar. Rick seemed to love the indulgent style of this dish, with finely chopped vegetable curry cooked to a soft mash, the freshly baked buns and above all, the slab of butter slathered on to the bun and laid across the bhaji!
The meen masala or Bombay salmon masala curry, looked like a really quick and simple dish to make with lots of rewarding flavour for very little effort. According to Rick, in India they tend to cook all their fish right through, but his top tip would be to cook the salmon until it's still soft and pink in the centre.
Finally, came the turn of the madras fish curry of snapper, tomato and tamarind from the Seashore Garden restaurant – a great but somewhat accidental find. Whilst filming Rick and the crew came across the beach of Mamallapuram, with four or five restaurants right on sand and brightly coloured fishing boats all the way along the Bay of Bengal.  Rick thinks that this dish is great to show how really fresh fish isn't ruined by a spicy curry and he recommends that in the UK we use monkfish fillet, filleted bass or gurnard.
It seems too obvious that Rick would choose a fish dish for his favourite curry, doesn't it…? Either way it must be good, as he has chosen it for the menu at The Seafood Restaurant.
The search for the perfect curry continues…
The third episode started in Madurai (formerly Madura), the second largest city in the state of Timil Nadu. The famous Sangam poem Rick mentioned is 'The Garland of Madurai' and it paints a brilliant picture of the city in the days of the second-century, describing the perfume of flowers, ghee and incense that could be smelt for miles around.
On to the food now; the tamarind rice, or puliyodharai, we saw tonight was prepared in the kitchen of the Meenakshi Temple in Madurai.  Once the rice is cooked, it is pressed against a stone surface by hand; as they believe it gives an additional flavour(!)
Religion in India seems to be very much part of everyday life and at this temple they cook food free for worshippers and have another kitchen where they cook food to be sold after being blessed by a priest. In the book, as only Rick could, he compares this to visiting York Minster and coming away with a Yorkshire pudding, blessed by the archbishop!
Another great dish from Madurai that didn't make the directors cut for the TV series is the Chettinad chicken, from the Taj Gateway hotel.  A peppery dish, but one that is full of real country cooking.
For those with a sweet tooth, it was time for a dessert dish this week with the inclusion of payasam, a sweet milk pudding with vermicelli. This one is a typical Tamil dessert and is apparently always served at local weddings. With plenty of milk, ghee and sugar this dish, like most Indian desserts, is best enjoyed in small portions!
Tonight's episode was one for the meat-lovers with both pork and lamb on the Indian menu. Most of us know that in India, pork is rarely found outside Kerala and Goa. Muslims don't eat it; many Hindus are vegetarians, and those who do eat meat don't care for pork. But Rick thinks the pork dishes of the Christian communities in Goa and Kerala are a triumph of fragrance. Amma's pork curry with green chillies and tamarind was the perfect example of this.
Some of us in Britain are probably also a little guilty of finding curries made with goat meat a little off-putting. Whereas Indians much prefer goat to lamb, and use it in what they call mutton curry. The Cochin first-class railway mutton curry that featured tonight is actually made using lamb shanks, but is full of flavour and fragrance from marinating over night and cooking long and slow.
The search for the perfect curry continues…
We're now over half way through Rick's Indian adventure and tonight's episode saw him discovering Lucknow and the food of the Nawabs.
The first dish Rick cooked, Nimish, was very typical from the era of the Nawabs and their very inventive chefs. This dessert is simply whipped, sweetened cream and milk, flavoured with saffron and rosewater. In his book, Rick recalls walking through the cool streets of Lucknow at dawn and stopping at a stall with a giant bowl full of it, scattered with saffron, pistachio nuts and silver leaf. They scooped up a glassful of it for him, which traditionally contains the morning dew settled on the cream, and Rick described it as a 'true experience of the mystique of India in a single taste.'
Nimish is also used in an Indian version of our bread and butter pudding, called shahi tukra, originating from the imperial kitchens of the Mughal Empire. Whilst travelling, this was a favourite of Rick's.
Rick is always keen to meet new friends on his adventures, and tonight he met Rocky Mohan and his wife Rekha, who cooked their version of chicken korma, much to Rick's satisfaction!
Next on the menu was shami kebabs, and Rick was introduced to this dish by one of the people who helped in creating the book, Roopa Gulati. A very tempting, silky smooth dish stuffed with just a little finely chopped onion, mint and green chilli.
The final dish cooked by Rick was the paneer jalfrezi and according to a poll featured in the British Curry Club's in-house magazine, the jalfrezi is now the most popular choice in Britain's Indian restaurants. The jalfrezi Rick cooked however was specifically for 'paneer', an Indian cheese, but if you can't get hold of this, Rick suggests halloumi as a good, but saltier, alternative.
The search for the perfect curry continues…
Edging ever closer to the final episode of Rick's Indian adventure, tonight's instalment saw him exploring Deogarh, Pushkar and Jaipur.
When Rick lunched at Sanjiv's Bali's restaurant in the Amber Fort just outside Jaipur, it turned out to be a showcase of classic Rajasthani cuisine. The popular mutton chop recipe that Rick recreated was made with lamb cutlets that are first simmered in aromatic milk before given a light spice batter and fried.
When it came to the chicken and rosewater biryani, Rick has admitted to spending a considerable amount of time tying to perfect the making of a good biryani and the much easier pulao. Both are rice dishes with strong Persian influences, but when made poorly both can be a little stodgy. Rick thinks that the secret is to parboil the rice so that the surface is soft and cooked, but the centre is still hard.
Rick was also very fond of the aloo gobi, potato and cauliflower curry, that featured from a village near Deogarh. He likes to enjoy it at breakfast with a fried egg on top, but also recommends trying it with raita and chapatis.
Moving on to the rajma, or kidney bean curry, Rick confesses that this was one of the most surprising things he discovered on his Indian adventure – and one of those dishes where he would have no problem with being a vegetarian. Rick had another top tip when making this recipe, suggesting mashing some of the beans against the side of pan just before serving.
Finally, Rick was honoured to meet with the Dalai Lama and they certainly seemed to get along whilst talking about Indian food.
The search for the perfect curry continues…
So that is it. Rick's Indian journey is complete and after weeks of cooking at the beautiful bungalow on the lagoon in Kerala, he has found his perfect curry. But first we were treated to a recap of Rick's favourite dishes throughout the series and great selection of new chicken, crab, lamb and vegetarian dishes.
When Rick visited the Taj Gateway hotel in Madurai he was lucky enough to observe the home cooking of Mrs Samundeswary and her Chettinad chicken. It's a very spicy and peppery dish, but one that tastes of real country cooking. It also included the lichen of a stone, known as dagarful, kalpasi or stone flower – if you can't find it Rick suggest using more cinnamon.
Rick didn't need any excuse when it came to the next Chettinad dish, but made with crab it was much more familiar to Rick. He described it as a dish where you can get your hands dirty and enjoy with a nice cold beer.
Tonight we also saw another vegetarian treat in the shape of the thoran, a dry vegetable curry from Kerala made from whatever fresh vegetables are available and cooked with mustard seeds, green chillies, ginger and grated coconut.
India has been an eventful journey and one full of discovery, colour and spice – but in tonight's episode it was nice to take a trip down memory lane to the simpler flavours of Taste of the Sea back in 1995. Even 18 years later Rick is still having problems with mixers and grinders.
When it came to Rick's perfect curry it was the accidental find in Mamallapuram and the madras fish curry from the Seashore Garden café. Perhaps it was only natural that he would choose a seafood curry, for his favourite or maybe he was overwhelmed with finding such a great, but unexpected dish.
Thank you India for a mind blasting curry extravaganza!
When I heard that the Taj Gateway hotel in Madurai had employed a local housewife to cook some of the region's dishes, I knew they were on to something. Wherever you go in India, what people love above all is home cooking. I was lucky enough to watch Mrs Samundeswary cook her Chettinad chicken there. The dish is very peppery, but you know you're experiencing real country cooking. It also has one of those ingredients that is transformational but quite hard to get hold of. It's the lichen off a tree, known as dagarful, kalpasi or stone flower, with a flavour like cinnamon. You can find it online, but if it proves elusive, just add more cinnamon.
SERVES 4
For the spice blend
1 tbsp fennel seeds
1 tbsp cumin seeds
1 tbsp coriander seeds
1 tbsp black peppercorns
1 tbsp Kashmiri chilli powder
For the chicken
50ml vegetable oil
1 tsp fennel seeds
5cm piece cinnamon bark
1 tbsp very roughly chopped dagarful or an extra 3cm piece cinnamon stick
150g shallots, diced
Handful of curry leaves
700g skinless boneless chicken thighs, cut into 5cm pieces
20g/4 cloves garlic, finely crushed
20g/4cm ginger, finely grated
1 tsp sugar
1 tsp salt
100ml water
Boiled basmati rice to serve
RECIPE NOTE
If using dagarful, sort through it and remove and discard any pieces of bark first.
Method
For the spice blend, put the spices in a spice grinder and process to a powder.
For the chicken, heat the oil in a sturdy frying pan or karahi over a medium heat, add the fennel, cinnamon and dagarful and fry for 1 minute. Add the shallots and curry leaves and fry for 10 minutes until the shallots are softened and golden. Add the chicken and stir around for 1-2 minutes, then stir in the garlic, ginger, sugar, salt and all of the spice blend, and fry for 2 minutes. Add the water, and cook for about 10–15 minutes, stirring often and adding more splashes of water if needed to stop it sticking to the pan, until the chicken is cooked through and the sauce thick and reduced and clinging to the chicken. Serve with boiled rice.
Recipe taken from Rick Stein's India, courtesy of BBC Books.