Rick Stein and Jill Stein win a Catey Award
19.07.2016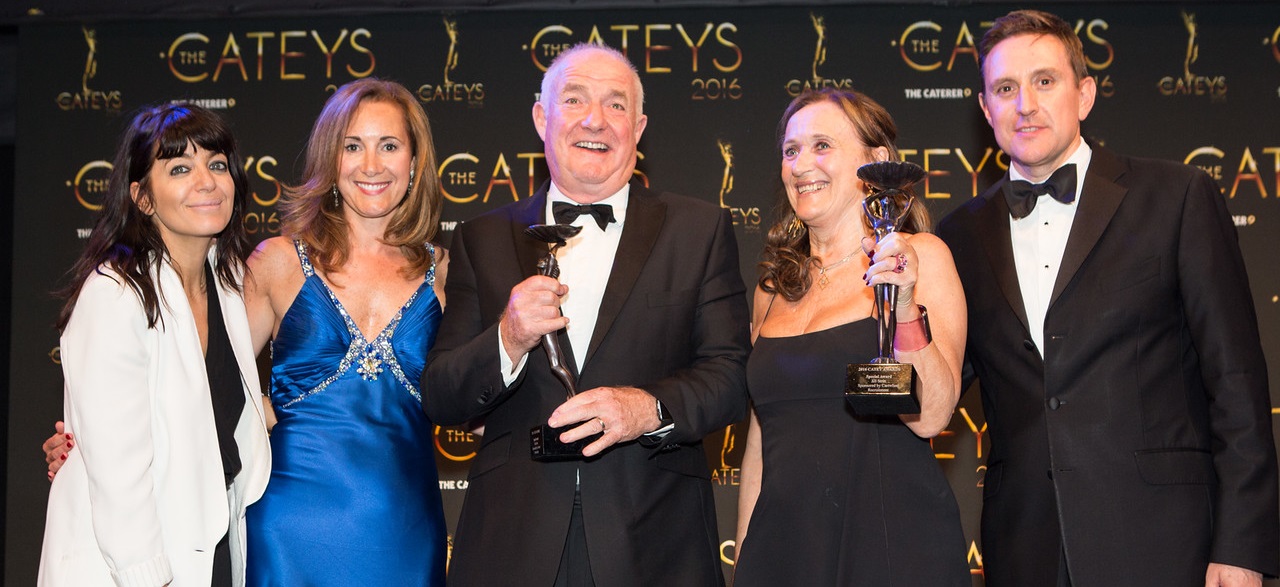 Rick Stein and Jill Stein have been presented with the Special Award at the prestigious Catey Awards, often regarded as the Oscars of the hospitality industry. Described by the Catey team as "Cornwall's greatest hospitality ambassadors", they were recognised for their contribution to building a global brand over the last 41 years. Rick and Jill collected their award in front an audience of more than 1,200 at the ceremony, which was held at Grosvenor House, A JW Marriott Hotel in London.
Rick said that they were both "delighted to have received this fabulous award". In his speech at the ceremony, he said that he believes there is something special about the hospitality industry, commenting that "the friendships you make are friends for life and serving the public on a daily basis is a great leveller. It doesn't matter how successful you get you're only as good as your last meal, and also as good as the staff who work for you". Rick went on to say that both him and Jill were both extraordinarily lucky to have had a wonderful collection of characters working with them over the years – and that it's all of them that they would like to thank.
Jill said that she was "over the moon about receiving this special award". She explained that her and Rick had a dream 41 years ago, but never in a million years did either of them think that they would still be here building the business and receiving this special award. "It's a great honour to be recognised by our own industry. It has been a lifetimes work with all the challenges that it has thrown at us, but we have been incredibly lucky to have succeeded where many businesses in hospitality fail". Jill's thanks went to the amazing people who have worked in their little business in Padstow, and who have helped her and Rick create what they have now. She also thanked her sons who she says "are now a big part of our operation."
Having opened The Seafood Restaurant in Padstow back in 1975, the business now employs over 500 passionate people and includes 10 restaurants, 40 hotel rooms, self-catering accommodation, four foodie shops and a cookery school. It has now grown beyond Cornwall with restaurants in Winchester and Sandbanks, Rick and Jill are both still at the helm, with their three sons all involved in the business too. It's fair to say that the Stein family passion for fresh fish, simply cooked is stronger than ever.