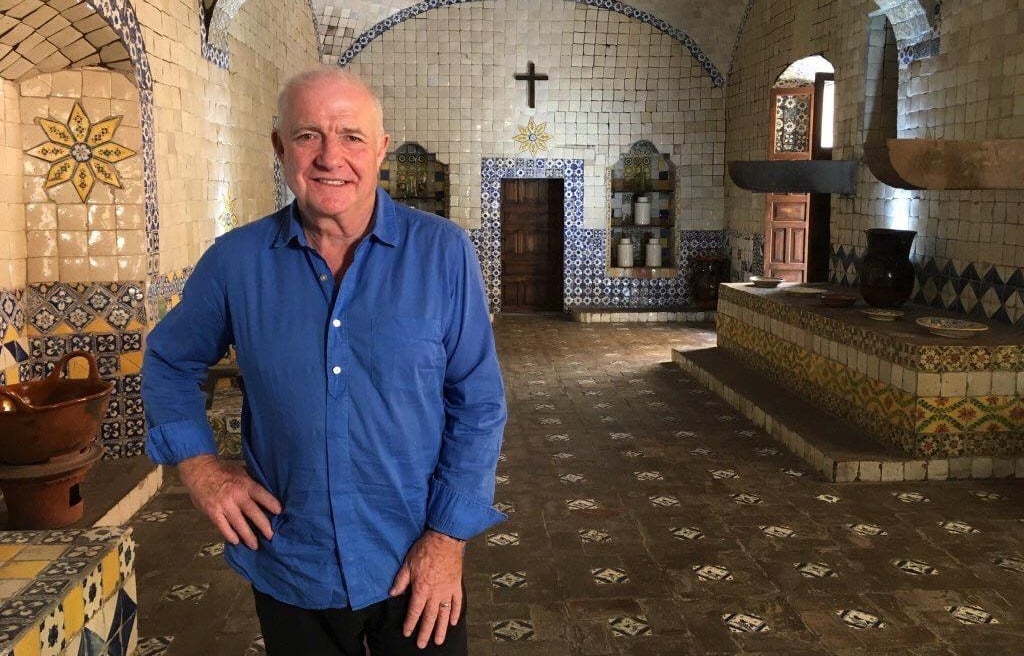 Rick Stein's Road to Mexico
Rick Stein's Road to Mexico is inspired by a journey that he made in late 60's, so expect to hear lots of nostalgic tales of how the countries have changed over the years and how the food has developed. It's a classic Rick series and book – vibrant dishes, travel tips and a dash of art and culture thrown in for good measures from San Francisco in California down to Oaxaca in Mexico.
Get the book
Order a signed copy of Rick Stein's Road to Mexico, which includes 120 new recipes to recreate for your friends and family at home here.
Try the dishes in our restaurants
You can look forward to trying some of the dishes from Road to Mexico on our menus – including huevos rancheros, freshly shucked oysters with Hog Island dressing and Rick's extra special margarita. Choose a restaurant here.
Learn to cook the recipes
To celebrate Road to Mexico, Head Chef Lecturer Nick at our cookery school in Padstow has put together fab one day and half day courses where you'll discover some of Rick's favourite recipes from the series – including chargrilled beef tacos with spring onions and guacamole.
One day cookery course – £198 | Half day cookery course – £95
Road to Mexico Episode Guides
Rick Stein The Road to Mexico: Episode one
Back in 1968, having heard the Mamas and Papas' 'California Dreaming', Rick was filled with a desire to embark on his own road trip down the Pacific Coast Highway to the Mexican border and beyond.  Now in 2017, he retraces his steps in a seven-part BBC2 series and accompanying book.
Rick starts his foodie adventure at Fisherman's Wharf, a busy tourist area in San Francisco that offers views of the famous Golden Gate Bridge and Alcatraz where he samples some beautiful Dungeness crab meat with a cocktail sauce. This is followed by a visit to The Tadich Grill, California's oldest restaurant that opened in 1849, and as Rick says, it hasn't changed too much since. On the menu Hangtown fry, an omelette with oysters and bacon that became popular during the Californian goldrush in the 1850, and Cioppino, a seafood stew that Rick goes on to demo back in his own kitchen. Made with monkfish, mussel and prawns in a chunky tomato sauce and served with chargrilled sourdough (another staple of life in San Francisco).
Back in the USA, Martin Yan, a well know Chinese chef, takes Rick to explore most famous Chinatown in the world. First stop, the Golden Gate Fortune Cookie Factory to learn how fortune cookies are made first hand – amazing how many different shapes and sizes they come in. No visit to Chinatown would be complete without some food, so Martin takes Rick to MY China restaurant for some inspiration, including dumplings filled with scallops, and prawns with a spicy dressing.
Back in Padstow, Rick demos how to cook macaroni cheese with an American twist – made with masses of cheese and plenty of smoked bacon, and topped with breadcrumbs and Parmesan. The addition of bacon elevates this simple, homely dish into something even better – definitely a recipe to try out.
Next, Rick travels north of San Francisco to the Petaluma area to meet the owner of The Hog Island Oyster Company, Terry Sawyer. Who it turns out has eaten The Seafood Restaurant in Padstow – the oyster industry is clearly a small world. Rick samples them with a fresh, zingy chilli, coriander and lime dressing.
As San Francisco is the home of sourdough, prepare for an education in all things bread as Rick meets up with the British head baker at Tartine Bakery, Richard Hart. This meeting inspired a simple open sandwich that Rick demos back in his cottage. The toasted bread is topped with poached chicken breast, avocado, tomato and little gem lettuce.
Rick Stein The Road to Mexico: Episode two 
In this episode Rick continues travelling down the Californian coastline immortalised by Steinbeck, past citrus groves, and vineyards that inspired one his favourite movies, 'Sideways' and into the city of dreams, Los Angeles, before reaching San Diego.
On his first foodie stop, Rick's pays a visit to Splash Café in Pismo Beach, the 'clam capital of the world', to meet the owner Joanne Currie, and sample their specialty, clam chowder served in a sourdough bowl. Of which, they make over 40,000 gallons a year!
We then cut back to Padstow to see Rick demo his own clam chowder recipe, as the one he ate at Splash Café is very much under lock and key. The clams, which come from just across the Camel Estuary at Porthilly, sit in a beautifully creamy chowder flavoured with bacon, bay leaf, onion, leeks and celery, and thickened with some cubes of potato – served in a hollowed-out crusty roll. Perfect comfort food for this time of year!
Up next, Rick travels to Santa Barbara, home of The Hitching Post II – a bar that features heavily in one of his favourite films, Sideways. Whilst there he enjoyed a lovely chat with owner Frank Ostini over a glass of Pinot wine and a well-marbled steak with some buttery artichokes, which he adored. Then it's onto the Pacific Coast Highway to take in some incredible views and make most of having a convertible Mustang before stopping off at Churchill Farm to talk citrus fruit, particularly pixie tangerines (a seedless variety) and mandarins, with owners Jim Churchill and Lisa Brenneis. Inspired by his time at the farm, Rick prepares a cake that celebrates Californian circus fruit. Made with ground almonds and olive oil, and doused in lemon syrup it remains delightfully moist.
We re-join Rick truly living the dream on the Pacific Coast Highway heading towards LA – through Malibu and the Hollywood Hills. First stop in the city of dreams is The Musso & Frank Grill, that opened its doors on Hollywood Boulevard nearly 100 years ago, 1919 – Rick chats to the current owner, Mark Musso, whilst sitting in Steve McQueen's seat! Over the years many film stars have eaten there, including Marilyn Monroe, Brad Pitt and Charlie Chaplin, for which Rick tried his dish from the menu – grilled lamb's kidneys with bacon topped with a zingy lemon and herb vinaigrette.
Korean-Mex street food in next on the menu for Rick as he spends some time with the owner of Kogi, Roy Choi – beef sliders, chicken quesadillas and tacos with kimchi. Just a glimpse of the food that's to come in future episodes.
Still in LA, burrata wrapped in salty speck ham with peas and mint is next up at Osteria Mozza on Melrose Place with famous chef/owner Nancy Silverton. The restaurant includes a mozzarella bar, which creates endless light and delicate cheese dishes with mozzarella and burrata – all healthy, but with a rich LA twist.
A trip to La Scala restaurant to try their famous chopped salad and a chat with Gigi Leon about it's origins is next. As Rick says in the accompanying book: 'I'm a big fan of this chopped salad. It's all about the variety of the ingredients that you add and I like the way everything is uniform in size.' A beautiful combination of iceberg lettuce, salami, mozzarella, chickpeas and a few other raw veg, all brought together with a simple red wine vinegar and mustard dressing.
To end the episode, Rick muses about his favourite film, Some like it hot, whilst at Hotel Del Coronado in San Diego. 
Rick Stein The Road to Mexico: Episode three
Breakfast being the most important meal of the day, Rick enjoys a hearty steak and eggs with O'Brien potatoes American diner special and bids a fond farewell to his trusty Ford Mustang as he heads across what is reputed to be the busiest border crossing in the world, 90,000 people a day – San Diego to Tijuana – the start of his Mexican adventures.
Back in the crew's bus, Rick's first stop in Tijuana is Caesar's Restaurant – where he meets the owner, Javier Plascencia, to chat about the place that created the original Caesar salad, some 90 years ago. He notes the dish hugely benefits from being simply – made from romaine lettuce with croutons and a dressing made of salted anchovy fillets, lime juice, mustard, Worcestershire sauce, garlic, olive oil and of course, Parmesan. Definitely one to try at home.
Beautiful shots of Tijuana arch, Agua Caliente pool, Avenue de Los Heroes, Abraham Lincoln & Aztec Emperor statues are followed by Rick demoing his recipe for chicken burritos with pico de gallo salsa back in Padstow. A large flour tortilla packed with marinated chicken thighs, rice, grated mozzarella, guacamole (kept nice a chunky), soured cream and shredded lettuce. A real Mexican classic.
Next up in Mexico, Rick travels 45 minutes south of Tijuana, down the coast road to Popotla, a village famous for fishing. Whilst there he samples ling cod sarandeado – the fish is marinated with lime and chillies then grilled over charcoal, and deep-fried scorpion fish, served with refried beans, guacamole and salsa.
One of the best wineries in the Guadalupe Valley is La Lomita, so Rick swings by to meet owner Fernando Perez Castro Pagano – he notes that they make a very delicious 'Pagano' Grenache, which is a punchy 15.8% alcohol! This is followed by Rick demoing a fab crab dish by the chef at La Lomita, Sheyla Alvarado – baked crab with poblano, achiote paste and coriander. Sweet, white crab meat is paired with chilli, orange juice, tomato and coriander, added to a ramekin and topped with breadcrumbs and Parmesan before grilling for 5 minutes.
A meeting with the creator of the BajaMed cuisine, chef Miguel Angel Guerrero at his family farm gives Rick the opportunity to try venison tacos for the first time. The meat is grilled quickly and served in corn tortillas with a dressing of garlic, shallots, lime, thyme and olive oil. Rick's journey south continues down to Ensenada and La Mision Beach. At Taqueria Criollo, he meets Tania Ganja and Memo Barrett, and tries tacos with a difference – crispy tacos filled with mashed potatoes and crowned with shrimp aguachile and watermelon escabeche. "Seafood tacos for the social media generation."
Back in Padstow, Rick knocks up Ensenada fish tacos with chilli and coriander. Finger-sized pieces of cod fillet deep-fried in beer batter, served in corn tortillas with shredded white cabbage, avocado and chilli sauce.
The episode ends at Hussongs Bar, the oldest and best-known cantina in Baja California, where Rick enjoys a classic Margarita cocktail – traditionally made with Tequila, lime juice and Cointreau. A cocktail that you can now enjoy in our restaurants.
Rick Stein The Road to Mexico: Episode four
Leaving the Baja Peninsula, Rick explores the western mainland.  He lands in the town that placed Tequila (and probably Mexico) on the world map and the metropolis that gave us Mariachis and dishes like Carne con Chile – a city so loved by its people they insist on repeating its name twice – Guadalajara Guadalajara.
After listening to some superb mariachi music, chating about the history of Guadalajara (the valley of stone) and a wander between Hospicio and Cathedral, Rick pays a visit to Baratillo open air market, a must on a Sunday morning, for some authentic street food. A unique thirst-quenching, cold drink made of fermented corn, cane sugar and lime, called tequino was on the menu alongside a Hispanic slow-cooked goat, pasilla chilli and tomato stew – sometimes served in a taco with avocado, it's a popular breakfast choice in Guadalajara.
For his first demo of the episode, Rick cooks up carne con chile at his cottage Padstow. The classic, homely dish is a family favourite throughout Mexico, made with cubed braising steak in a rich chilli sauce with tomatoes, beans and rice. All accompanied by as many toppings as your bowl or plate can handle – shredded lettuce, soured cream, crumbled Lancashire cheese, avocado, coriander chipped onions and radishes, and maybe even a tortilla or two. A great winter warmer!
After exploring the incredible Orozco murals at Hospicio Cabañas and the La Buena Vida painting by Jose Clemente Orozco, Rick visits one of the top restaurants in Latin American, Alcalde Restaurant, to chat to chef Francisco 'Paco' Ruano – who takes classic Mexican ingredients and creates modern recipes with a twist. Curd cheese dumpling with a chilli butter sauce is one of Paco's dishes that light and delicate but still recognisably Mexican. Maize flour dumplings made with curd cheese sit atop spinach that's cooked down with onion, garlic, tomatoes and lemon juice served with a smooth, tangy chilli butter sauce.
Next stop is Jimenez Bakery to try birote bread. A French-style baguette native to Guadalajara that's crunchy on the outside but soft on the inside. Birote is produced almost exclusively in Guadalajara because the city's climate and altitude give the bread a unique taste and texture that cannot be equalled in other parts of Mexico. Following this, Rick goes to sample Don Jose's Torta Ahogada ('Drowned' sandwiches with fresh tomato salsa and a blindingly hot red chilli sauce), that are served, as Rick puts it, 'from a hole in the wall'. A sourdough baguette is stuffed full of carnitas (slow cooked leg of pork), put in a plastic bag and topped with freshly chopped onions, ladles of fresh tomato sauce and chile de arbol sauce. 
Now back in Padstow, inspired by his time in Guadalajara, Rick prepares buñuelos with a spiced guava syrup. Buñuelos are deep-fried wheat pancakes that are served throughout Latin America and Spain, traditionally shaped over your knee to create a rugged shape. The crisp pancakes are doused in a hot cinnamon and guava flavoured syrup, which as Rick says is 'a completely delicious combination'.
Back to Guadalajara, and tripe soup with guajillo chillies is on the menu for Rick at La Cuera Menudo. Which tends to be serves by restaurants late at night to catch those returning home after a drink or two – in fact, it's seen as a hangover cure! It's probably a dish that's not to everyone's taste though… Perhaps ironically after the hangover cure tripe soup, it's Tequila time! Rick meets the founder of Tequila Fortaleza and 5th generation tequila producer, Guillermo Erickson Sauza, to find out everything there is to know about turning the agave plant into Tequila.
Casa Kimberly in Puerta Vallarta, the stunning former home of Elizabeth Taylor and Richard Burton is next on the agenda. Here Rick enjoys Elizabeth's favourite cocktail, a Chocolate Martini, along with Chiles en Nogada, a dish said to have been created to celebrate Mexican independence. Poblano chillies are stuffed with vibrant mix of minced pork, minced beef, raisins, candied peel, nuts and herbs, and finished off with a creamy walnut sauce, a sprinkling of pomegranate seeds and some coriander.
After a mooch on the beach, Rick ends the episode at La Palapa Restaurant, where he samples an authentic after-dinner, flaming coffee – not one for the faint hearted (or to try out at home!) The coffee is "laced" with 3 liquors and are presented in a very dramatic style. In Rick's words "spectacular!"
Rick Stein The Road to Mexico: Episode five
And so to the capital, the melting pot that encapsulates a country that, despite its narrow stature, crosses three time zones.  For that simple reason, locals casually refer to the city as 'Mexico'.  Not much has changed to the food that fed the former seat of the Aztec Empire.  Scenes captured by Diego Rivera in his murals still come alive in the city's bustling markets and working men's taverns offer Pulque, the alco-pop of the ancients.
After recapping his adventure in Guadalajara, it's time for Rick to visit Las Duelistas Pulqueria with Arturo Garrido to sample a popular central Mexican alcoholic drink, pulque. Made from the fermented sap of the agave plant, it has the colour of milk, a somewhat viscous consistency and a sour yeast-like taste, mixed with fruit juice to create an alco-pop style drink. Rick downs a pint of it in one gulp!
After a mooch in Cayoacan organ grinders and a visit to the Molinera el Progresso spice shop to learn about chillies, chillies and more chillies, it's off to meet Saul Guevara at Cocina Economica Laurita (The Good Value Kitchen) in the Azcapotzalco Market. The market is packed with great-value street food, including chicken enchiladas with salsa verde, which of course Rick has to try. A lunchtime favourite with the locals, corn tortillas full of chicken are smothered in a salsa verde made from tomattillos, serrano chillies, onion and garlic – topped off with soured cream, cheese and spring onions.
Back in Padstow it's time for breakfast as Rick prepares Chilaquiles – the perfect recipe to use up stale tortillas. Cut into triangles, then fried or baked, they're known as totopos. They're then covered with salsa verde (made using the ingredients above from Rick's visit to Cocina Economica Laurita) and topped with a fried egg, some crumbled cheese (Lancashire and feta work well), raw onion, soured cream and coriander.
A chat about the Mexican revolution, the impressive revolution monument and a wander along Plaza de la República is followed by coffee and cake at Cafe La Habana. A spot where Che Guevara and Fidel Castro used to go. Rick is then given a tour of some 'locals' cantinas by 'Paco' de Santiago – Mexican pubs where you only pay for the drink – food is free. On the menu, pork shank, caracoles (snails) in mole, made from nuts, chocolate and chilli. This is followed by a trip to the epic, Mercado Central de Abastos – a huge commercial market.
An adventure at Xochimilco chinampas (a vast area of luscious garden) with one of Mexico's most famous chefs, Eduardo Garcia, sees Rick enjoy a salad made of fennel, beetroot and various other freshly picked veg – paired with tortillas stuffed with Oaxaca cheese. Simply cooking at its best, as Rick says.
Rick also demos a recipe for Aztec soup – roughly translated to tortilla soup with chipotle chilli, tomato and avocado. As he mentions in the book 'I know how hard it is to persuade people to go for the soup. This is because often you get a bowl of just that. If you want people to order soup, you have to make it special by adding lots of garnishes – in this case, fried tortilla strips, avocado, chilli flakes, coriander, a good spoonful of soured cream and often shredded chicken too.
Inspired by his time at the Dominican Covent Santa Rosa, back in Padstow Rick prepares the famous chicken mole poblano – a dish of simply pan fried chicken breasts topped with a complex rich, fruity sauce with a hint of toasted chilli and a sprinkling of sesame seeds. The mole sauce is a real labour of love, but it's really worth it.
The episode draws to a close with Rick visiting the Koch mezcal distillery where he chats to General Director and co-founder, Carlos Moreno. Mezcal is an alcoholic spirit with a certified denomination of origin, elaborated through the distillation of the fermented juice of the Agave plant in its various forms. Distillers traditionally slow-roast the agave by burying it in pits with hot rocks, which infuses the final product with its signature smokiness. Try it in our exclusive Ribs-e-Rita cocktail – available on our drinks lists.
Rick Stein The Road to Mexico: Episode six
For Mexicans, their most revered dishes come from the south and their Mecca is undeniably Oaxaca, where locals still dress in traditional costume bringing to life the enduring descriptions of writers like D H Lawrence who fell in love with the area.
Following an authentic Mexican wedding precession, Rick heads to the Oaxaca Market where he tries some local air-dried meat called cecinas, like prosciutto, at Mercado Benito Juarez. Still in the market, Rick reminisces about the various taco's he's had on his journey so far, before trying something a little different… champulines, or edible grasshoppers. Somewhat of a delicacy in Oaxaca. Apparently.
After a mooch around the Oaxaca central plaza, Rick pays a visit to the town of Reyes Etla to meet Don Lorenzo Reyes Pinelo to talk cheese. Specifically, Oaxaca cheese, which is a white, semi-hard cheese, similar to Monterey Jack, but with a mozzarella-like stringiness to it. Sounds great, doesn't it?
Back in Padstow, Rick demos the recipe for his blue corn quesadillas that he discovered in the Xochimilco market, which is about 20 miles from the centre of Mexico City. The blueness comes from the type of corn flour used to make the tortillas – don't let the colour put you off the dish. The tortillas are warmed through in a pan and topped with mozzarella and Lancashire cheeses – when melted courgette flowers and spinach are added before folding the tortillas into a semi-circle then cooked until the cheese is oozing out the sides.
Next up, Rick explores the famous murals at Museo de Palacio in the heart of Oaxaca and then visits Nora Valencia who runs an authentic Oaxacan cookery school, Alma de mi Tierra. On the menu, chicken pozole, one of the oldest recipe in Mexico! Expertly prepared by Nora, a whole chicken is boiled until cooked then shredded into bite-sized pieces, which is served in a punchy herb and chilli filled green soup, all topped with radishes, jalapenos and lime. As Rick says, the secret to this dish is having a great stock. To end the day, it's a mooch in Oaxaca Central Square to listen to marimba musicians play 'Sandunga'.
The following day Rick heads to Monte Albán, a large archaeological site in the Santa Cruz Xoxocotlán Municipality in Oaxaca – located on a low mountainous range rising above the plain in the central section of the Valley of Oaxaca. Back on the food and drink trail, Rick visits Tianguis Market in Tlacalula to sample Tejate – a thirst quenching, non-alcoholic drink made maize and cacao that originates from pre-Hispanic times.  Followed by a trip to Restaurant Tlamanelli. Founded by Abigail and Rosario Mendoza in 1990, the restaurant shares traditional cooking methods that dates back hundreds of years. Rick trys seguesa de pollo, another pre-hispanic dish that consists of chicken leg in a rustic corn sauce with some tomato to complement its rich flavour. Finished off with a toast of mezcal and a slice of chilli-topped orange.
In his kitchen in Padstow Rick cooks up a staple for many Mexican dishes, hot red chilli sauce. Made using two types of chillies, garlic and a range of herbs and spices, it really packs a punch, and definitely worth trying out if you love a hit of spice in your food. Next on the menu in Mexico, Rick pays a visit to Casa Oaxaca Restaurant where he meets Alejandro Ruis Olmedo who shows him how to make a classic salsa and guacamole in a molcajete (pestle and mortar), along with a dish of rabbit with oregano, griddled beef and an extra-special taco filled with grasshoppers, worms and flying ants!
Inspired by a visit to a cacao cooperative in Chinantla, the final dish of the episode is chocolate fondant truffles and pasilla chillies – which Rick says are really addictive! The pasilla chillies are dried and have a fruitiness to them which works beautifully with dark chocolate. The recipe calls for the truffles to be dipped in batter and deep fried just long enough to soften in the centre.
The episode draws to a close at Rick's location for the night, the eco-tourism Yetla cabins in the San Mateo Yetla Village, San Juan Bautista Valle Nacional – in Rick's words "glamping, Mexican style".
Rick Stein The Road to Mexico: Episode seven
Rick's journey begins to draw to a close as he heads east from Oaxaca to the Yucatán Peninsula – a place once frequented by real pirates of the Caribbean, including our own Sir Francis Drake.
First up, Rick savours an authentic Cuban spit roast pig BBQ, before going to sample Campeche's most famous dish, octopus. Cooked down with garlic, chilli and paprika until sweet and tender. Back in Padstow Rick demos how to make coconut prawns with papaya sauce. It's a popular dish served in the Yucatán peninsula, often served with apple sauce, but far less frequently with a papaya and habanero dipping sauce – which Rick much prefers. King prawns are coated in batter before being dipped into a mix of plain flour, panko breadcrumbs and desiccated coconut and then fried in corn oil. Served with zingy dipping sauce they make a great starter.
Next stop is the beach at Campeche, where Rick met some local fisherman to hear the stories of the sea and learn a super simple by delicious recipe for fish soup. It's a dish they make on their boats using fish straight from their nets cooked in a stock of water, onions, garlic and peppers – served with a spicy, citrus salsa. As luck would have it, it's a special day in Campeche, the 500th anniversary celebration mass of the arrival of the Spanish in Yucatán, which means parties and fireworks for Rick to experience. A very local affair.
The following day Rick sets off to explore the magnificent ruins of the Mayan city of Uxmal. Considered one of the most impressive cities of the Maya world, it features carvings, terraces and imposing pyramids. On route he stops in a small village, Pomuch, to visit a tortilleria to discover how fresh tortillas are made. Once in Uxmal, Rick pays a visit to see Don Hernan and his wife Azaria in a traditional Mayan house in Santa Elena. Whilst there, they cooked Rick a homely dish of tortillas with boiled eggs and a Mexican version of hummus – made with pumpkin seeds, ripe tomatoes, chives and coriander.
Following his Mayan experience, Rick's back in Padstow to knock up a popular dish from Yucatán, Pan de cazon (sardines in tortillas with spicy tomato sauce). In Mexico it's served with dogfish, but Rick notes that the few times he tried it, it tasted more like tinned sardines, hence the change for the recipe. The fish is sandwiched between crisp corn tortillas and covered in a slightly spicy tomato sauce before serving with re-fried beans and of course, sliced avocado.