Winchester chefs at Wicor Primary School Harvest Festival
22.09.2015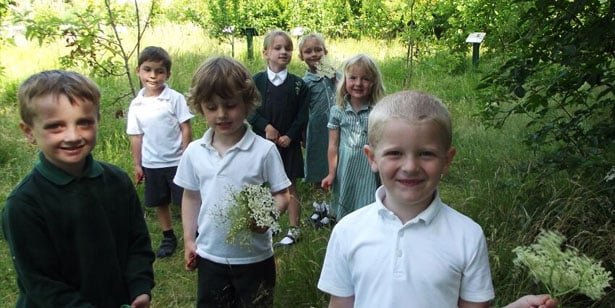 At the end of this month pupils at Wicor Primary School in Porchester will celebrate British Food Fortnight. On Wednesday 30th September usual lessons will be put on hold so pupils can get involved in the Wicor School Harfest Grounds Day. The event has been organised by the school in partnership with local food group, Hampshire Fare.
A wide range of activities will take place in the school's grounds which include allotments, woodlands, wildflowers, herb and fruit plants and a tropics border. Our chef Liam Richardon from Rick Stein, Winchester along with front of house star Nathaniel Vowden will show three demos to year 5 and 6 pupils using vegetables harvested from the school grounds.
Other activites the children will be involved in over the week will include harvesting vegetables from the school allotment, cooking vegetable tarts and geting closer to nature as they go outdoors exploring bee keeping and juicing in the orchard.
The reception class will also be working with staff from Hampshire Fare to learn about different plants and vegetables through a Hog Hunt.
Mark Wildman, Head teacher of Wicor Primary School commented on the plans for the day, "At Wicor Primary School we grow a lot of our own food which the children harvest for cooking or for sale in our organic veg box scheme. We also have hens and are hoping that our bees will soon be producing honey, all of which provide first hand experiences for the children to plant, nurture, harvest and use local produce."
"British Food Fortnight seemed to be the perfect opportunity for us to build on this philosophy. We have assigned our Autumn Grounds Day on 30th September doing something with food; every child will learn something about food production, harvest or cookery by working alongside a local provider or producer."
Tracy Nash, Commercial Manager of Hampshire Fare, is excited to be involved in leading the event, "We have been overwhelmed by the offers of help and support from local producers, chefs and businesses. There is such enthusiasm behind the event. It really is a team effort to help the future generation learn about where their food comes from.  We hope that other local schools feel inspired by the event and think about holding their own harvest day involving local producers."
To follow the progress of the project via Twitter follow @minihorts, @hampshirefare and @SteinWinchester for the latest news about the day.