How to entertain your mini-Steins this summer
08.07.2015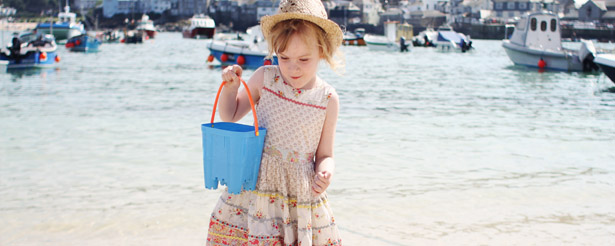 The sun has been shining in Padstow and the streets filled with the happy chatterings of children enjoying everything Padstow has to offer. If you're planning a trip to Padstow in the next few months, here are our favourite ideas to keep your little ones entertained.
Crabbing off the harbour wall


Pick up a crabbing line and bucket in one of the local shops, then find a seat on the harbour wall in the sunshine to throw your line over. Small grey crabs scuttle to the shelter of the harbour walls so there's plenty to catch! We recommend using a bit of fish as bait to make sure the crabs are tempted onto your line.
Visit the National Lobster Hatchery


We are very lucky to have the National Lobster Hatchery right next door to us. They research lobsters from our Cornish waters to make sure we can preserve our coastal heritage. As well as learning all about lobsters and Cornwall, you can see tiny lobsters in the maternity ward and full grown lobsters up close in their tanks. The best part? It's free for under fives to visit and only £1.75 for children over that age.
Get your mini-Steins in the kitchen to learn how to cook with our chefs. Padstow Seafood School offers courses for 8-11 years and 12-16 years  with specially designed dishes from goujouns of lemon sole to sunken chocolate cake. Not only will they learn how to fillet, cook and bake, they will make new friends with their fellow chefs and get to eat each of the three dishes they cook. An added bonus is some grown-up time while the children are entertained, best spent on The Seafood Restaurant terrace with a cocktail or two!
Cycle the Camel Trail


Set along the beautiful Camel Estuary, a bike ride along the Camel Trail is the perfect way to spend your day. You'll find a host of child friendly options available at the bike hire in Wadebridge and Padstow such as smaller bikes, child seats and pull along trailers to make sure your little one has as safe and an enjoyable time as you do.
Let us know your favourite ways to entertain your little ones in the comments below, or send us a tweet @TheSeafood.