Rick Stein's leek tart recipe Secret France
26.01.2021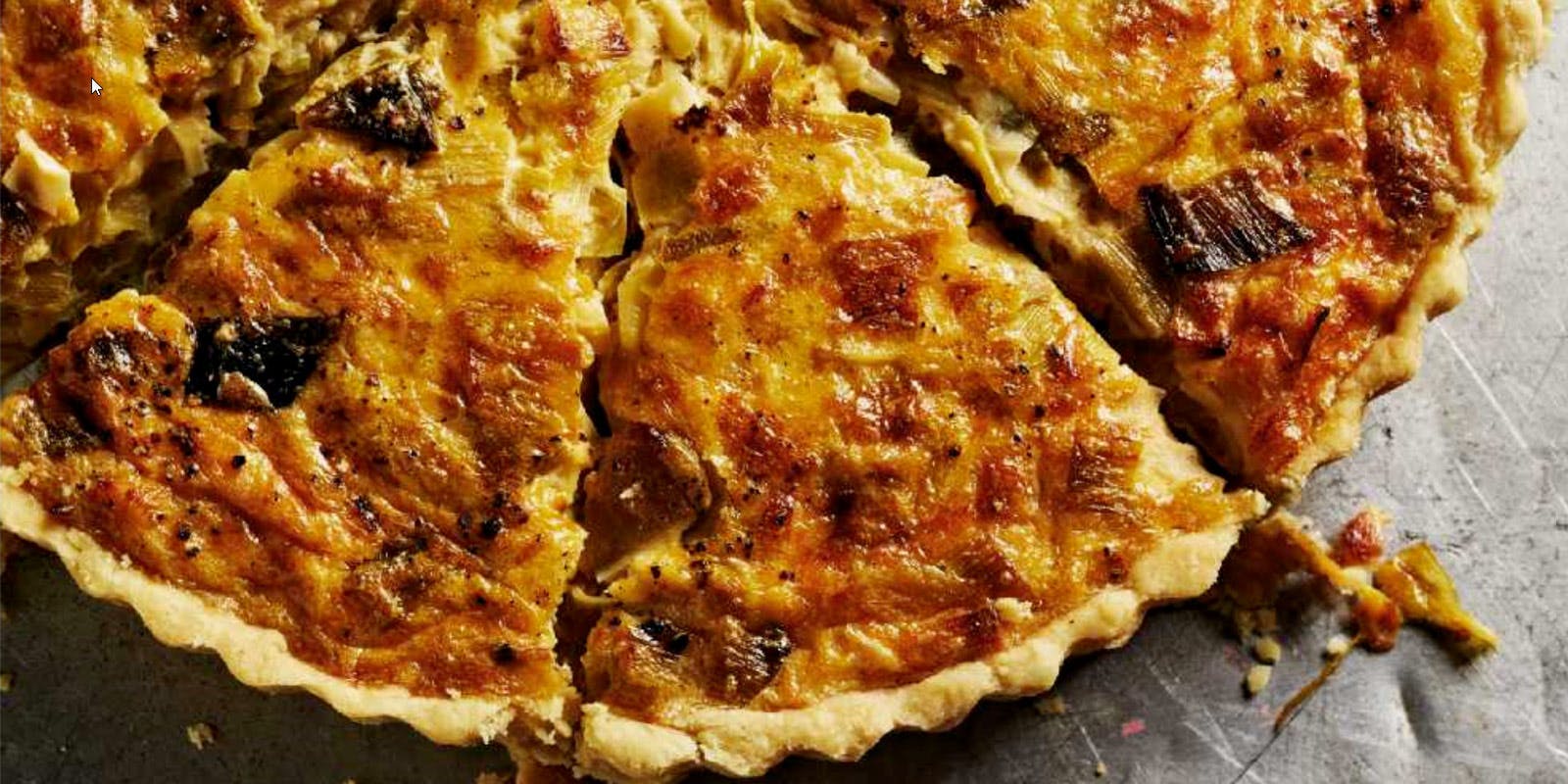 Recreate Rick Stein's Secret France recipe for leek tart from Picardy – as seen on BBC2.
Rick says: Many versions of this leek tart or pie from Picardy exist, some with a top of puff pastry or brioche or with added ingredients like cheese or lardons. Being something of a purist I prefer just a case of really short shortcrust pastry, my mother's recipe, with plenty of leeks sweated down in butter, then bound with an egg and cream mixture and baked. Delicious.
Ingredients
75g butter
1.25kg leeks (about 3), cut in half lengthways, washed, cut into 1cm slices
300g full-fat crème fraîche
2 large eggs, lightly beaten
Freshly grated nutmeg, to taste
200g plain white flour, plus extra for dusting
60g cold unsalted butter, cubed
40g cold lard or vegetable shortening, diced
2 tbs ice-cold water
Method
First make the pastry. Put the flour, salt, butter and lard in a food processor and process until the mixture resembles fine breadcrumbs. Transfer it to a bowl and add enough of the water to make a smooth but not sticky dough.

Put the dough on a floured work surface and roll it out to a circle about 28cm in diameter. Place the pastry in a 25cm loose-bottomed fluted tart tin, then trim the edges and prick the base with a fork. Cover with cling film and refrigerate or freeze for at least 30 minutes.

For the filling, melt the butter in a large shallow pan, add the leeks and leave them to sweat, uncovered, over a medium to low heat for 20–30 minutes until soft, stirring occasionally. If the leeks seem very watery after this time, cook until the liquid has reduced. Stir in the crème fraiche and beaten eggs, then season well with salt, pepper and nutmeg.

Preheat the oven to 200°C/Fan 180°C. Remove the pastry case from the fridge or freezer, line it with baking parchment and fill with baking beans. Bake it for about 10 minutes, then remove the paper and beans and continue to cook for another 4–5 minutes to allow the pastry base to dry out a little. Turn the oven down to 190°C/Fan 170°C.

Fill the pastry case with the leek mixture and season with a little black pepper. Bake the tart for 25–30 minutes, then serve warm or at room temperature.
Recipe from © Rick Stein's Secret France, BBC Books, 2019

Photo © James Murphy Photography
DINE IN WITH STEIN'S AT HOME
From steak to lobster and coq au Riesling to curry, our Stein's at Home menu boxes bring fresh Cornish seafood and Rick's classic dishes straight to your door to enjoy at home. Available for delivery across the UK.