Rick Stein's lentil, beetroot & goats' cheese salad recipe from Secret France
28.01.2021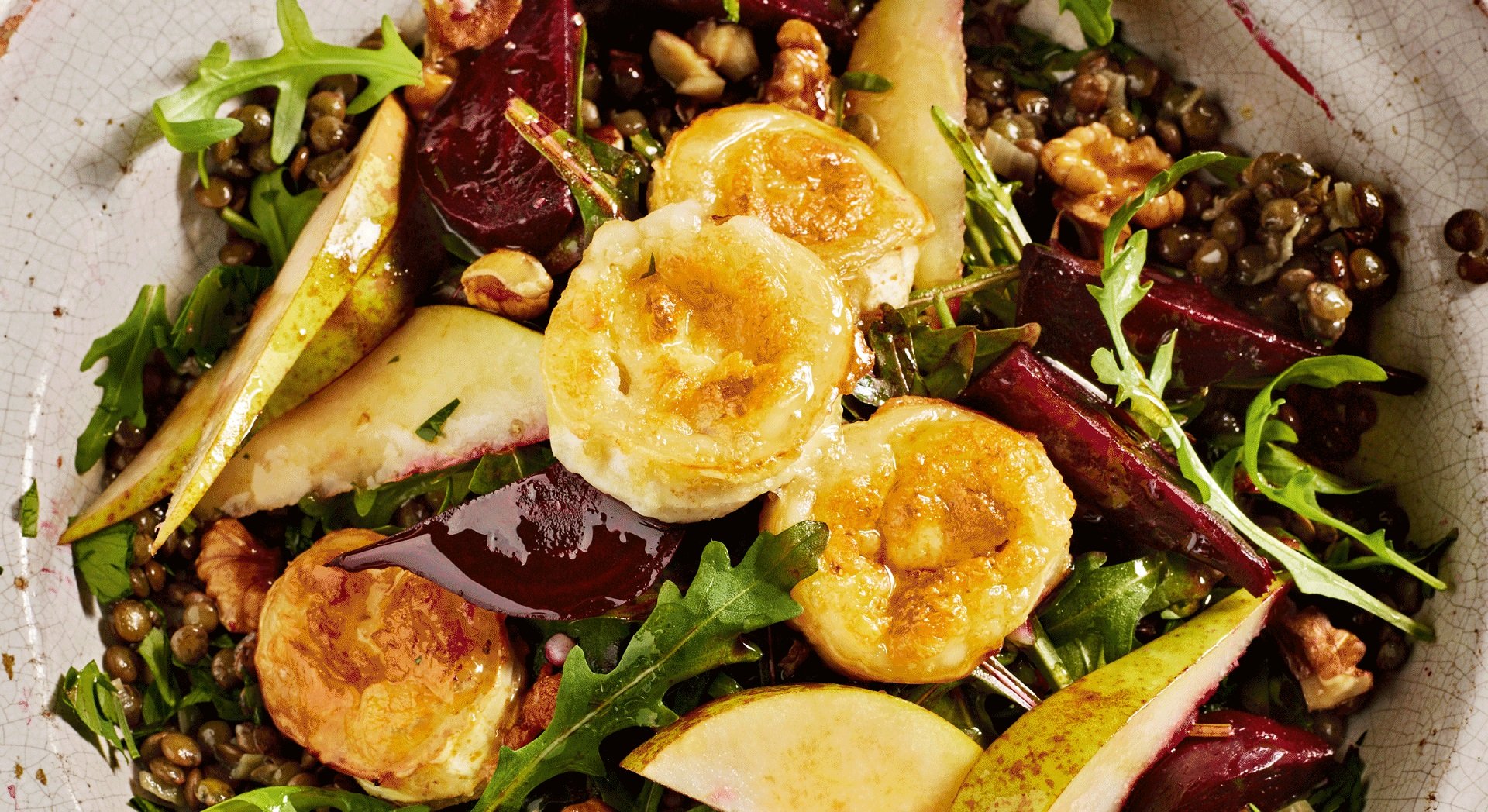 Recreate Rick's lentil, beetroot & goats' cheese salad recipes from Secret France – as seen on BBC2.
Serves 2 as a main course or 4 as a starter.
Ingredients
175g small beetroots,
washed but not peeled 2 tbsp olive oil
1 shallot, finely chopped
1 garlic clove, finely chopped 100g Puy lentils, rinsed
1 fresh thyme sprig
Small handful flatleaf
parsley, chopped
1 ripe pear
100g goats' cheese log
2 small handfuls
rocket leaves 4 walnut halves,
roughly chopped
Salt and black pepper
Dressing
2 tbsp olive oil
1 tbsp walnut oil
1 tbsp sherry invegar
Method
Preheat the oven to 190°C/Fan 170°C. Put the beetroots on a baking tray and roast them for up to an hour, depending on size. They should be tender to the point of a knife when done. Leave them until cool enough to handle, then peel off the skins and cut them into wedges. Set aside.

Heat the olive oil in a pan and sweat the shallot and garlic over a medium heat until softened. Add the lentils, 300ml of water, thyme, half a teaspoon of salt and plenty of black pepper, then simmer for 23 minutes. You may need to add a little more water, but the object is for it all to become absorbed. Leave the lentils to cool down, then add the chopped parsley.

Core and slice the pear, leaving the skin on. Cut the cheese in half horizontally or into 4 slices, depending on how many you are serving.

Preheat the grill and grill the cheese on one side. Mix the olive oil, walnut oil and vinegar to make the dressing.

Put the lentils in a wide dish, then top with some rocket leaves. Nestle beetroot wedges and pear slices among the leaves and top with the grilled goats' cheese and dressing. Sprinkle over the walnuts and serve at once.
Recipe from © Rick Stein's Secret France, BBC Books, 2019
Photo © James Murphy Photography
DINE IN WITH STEIN'S AT HOME
From steak to lobster and coq au Riesling to curry, our Stein's at Home menu boxes bring fresh Cornish seafood and Rick's classic dishes straight to your door to enjoy at home. Available for delivery across the UK.