Top souvenirs from Stein's Gift Shop
25.05.2015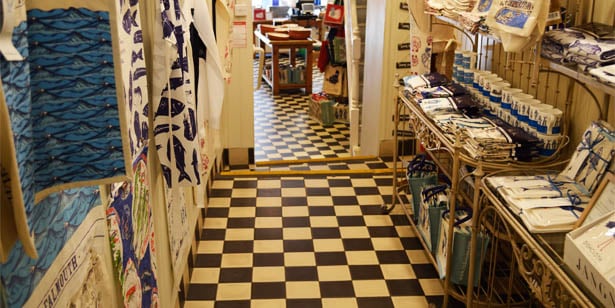 Full of charming little shops, it's easy to get overwhelmed in Padstow when looking for the perfect souvenirs to take home with you. Whether looking for something that will evoke memories of your visit, thank you gifts for the pet sitters, or presents for those that couldn't make the trip, Stein's Gift Shop has a whole host of items to take away with you. Here are our top souvenir suggestions:
40th anniversary ceramics


These show stopping pieces have been created especially to celebrate the 40th anniversary of The Seafood Restaurant by designer Wendy Bray. The beautiful hand drawn prints of prawns and mackerel are all inspired by Padstow harbour. These dishes make perfect serving dishes and look fabulous as a centrepiece on a table.
Price: from £29.50
Perfect for: a long lasting souvenir of your trip to Padstow
Top tip: this is a limited collection for the 40th anniversary so get them while you can!
Padstow gifts


Undoubtedly one of our best sellers, the iconic Padstow print on our candles, water jug and textiles are the perfect reminder of your stay in Cornwall. If you love the sea air, the Padstow candle is a must with a wonderful scent of coastal summer days.
Price: from £7.50
Perfect for: those who get nostalgic for their Padstow holidays
Top tip: the water jug doubles up as a beautiful vase
Kate Samuels enamel prints


This modern new collection of tin mugs, plates and bowls are a vibrant injection of colour in Stein's Gift Shop. Perfect for camping or picnics, these beautiful prints will bring brightness to any occasion even if the sun doesn't make an appearance. Kate Samuels, the artist who designed the collection spent 5 years living and lecturing in Cornwall inspired by the sea and long walks along the cliff tops and beaches. This range is aptly called the 'Sunshine' collection and is inspired by Kate's first daughter.
Price: from £12.50
Perfect for: those who love the great outdoors
Top tip: mix and match colours and styles for an authentic modern look
Shoeless Joe signs


These wonderful wooden signs are brimming with coastal character. As well as the charming "loo" fish, there are various other creations to explore from cheeky seagulls perched on driftwood to bright beach huts. These make great little thank you gifts that add a touch of Cornish character to any home.
Price: from £3.75
Perfect for: token souvenirs for friends and family
Top tip: these look great hanging from a window or cupboard door
Fish soap on a rope


What better way to be reminded of your holiday than soaping up with a Rick Stein fish in the shower each morning? As well as smelling wonderful, this soap looks fantastic hung in the bathroom instead of your usual shower gel.
Price: £9.50
Perfect for: those who love a traditional souvenir with a twist
Top tip: If you love these, take a look at the gift set of three soap shells that look great alongside the bath tub.