Catch and cook at Rick Stein's cookery school
16.10.2015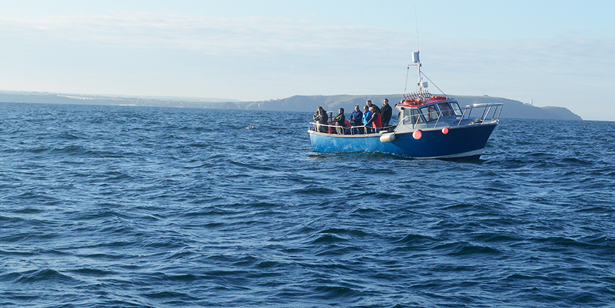 After three days of cooking and feasting on our four day Ultimate fish and shellfish course at Rick Stein's Cookery School the excitement was building to escape the kitchen and embark on our group fishing trip to start day four.  Blessed with a beautifully crisp clear morning, our students traded in their chef whites and aprons for warm jackets and boots as we prepared to take to the Camel Estuary to catch our lunch.
Father and son team John and Lee Wicks met us at Padstow quay with their boats "Emma Kate II" and "Sally Ann" ready to take us out across the estuary to catch local sea bass, pollack and gurnard which we would later learn to fillet and cook back at the school with head chef lecturer, Mark Puckey.
Panoramic views across north Cornwall greeted us: Rock, St Enodoc and Polzeath as we went along the estuary, then Trevose Head, Stepper Point, Gulland Rock, Trevone and Harlyn Bay as we headed south west from the harbour.
About 10 miles off shore we came to a stop and our captains organised us with rods, weights and bait. With our sea legs on, we cast off in hope of catching some beautiful Cornish fish for our lunch.
As we bobbed along  on the tidal drift and the pollack started to be lured in by our rods, shouts of "how many have you caught yet?" were competitively called between our boats. With 16 pollock caught between us we headed back to Padstow – perhaps not the most bountiful trip, but the weather was faultless, the sea calm and the views  of the north Cornish coast breathtaking.
Coming back to shore the tide had gone out so far, we disembarked straight onto the beach. A short walk over the green and around the harbour carrying our catch, returned us to the school where a well deserved coffee and plate of fresh smoked salmon kedgeree awaited.
To join in with our next ultimate fish and shellfish course or to find out more details, click the link below.