Great British Bake Off: Victorian era
16.09.2015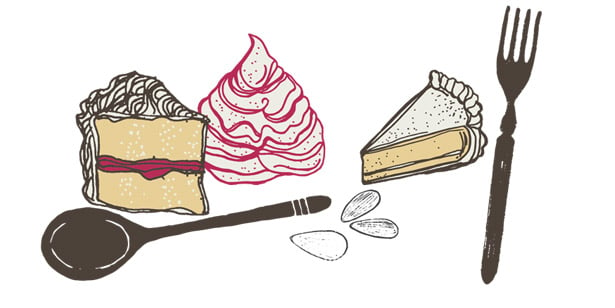 This week's episode of bake off is devoted to the Victorian era – a game pie, the perfect fruit cake and finishing with a Charlotte russe: a bavarois centre surrounded by sponge fingers and topped with jelly. Here are Stuart Pate's, our head pastry chef, top tips for the remaining bakers this week.
Game pie signature challenge
The pastry of a game pie is made of flour, water, lard and seasoning. It's important that when the lard is added to the water the water is warm to melt the lard. The bakers will need to work with this all quite quickly, while the lard is still warm to line the tin. A traditional game tin has two clips and a removable flat base, I'd recommend keeping the pastry warm in your hands and lining the tin, working as quickly as you can right into the corners of it. For an additional wow factor, I'd then lay in pieces of streaky bacon to line the tin and then add the rest of the meat.  Traditionally, the jelly filling would have been made of boiled pig trotters and stock. There's quite a skill to pouring this into the pie, go slowly and keep topping it up.
Fruit cake technical challenge
Keep your ingredients at room temperature, beat your sugar and butter together and then add your eggs. Try not to split the mixture and don't beat for too long or you'll loose the texture of the cake.
Marinade your fruit the day before in a warm place, this allows the fruit to soak up more of the liquid. If you have remaining liquid left in your bowl, add this to the fruit mix.
When adding the fruit to the cake mix, fold in by hand. A lot of people beat in the fruit which knocks out all the lovely juices you've marinaded into them. Another top tip is to line the tin with corregated card to stop the cake from drying out.
The optimum cooking temperature for a fruit cake is a low temperature for a long time. We normally cooks ours at 160°C, my mum used to leave hers at the bottom of the aga overnight for about 12 hours and it always came out really beautiful and moist.
Charlotte russe show stopper
The bavarois centre is essentially a mousse made up of sauce anglaise, egg yolk, sugar, and boiled milk, then you can add in your flavouring: fruit pureé or chocolate for example. While the mixture is still warm, add in softened gelatin and once cooled to body temperature (37.5°C), fold through some whipped cream, then add in whipped egg whites to add lightness to the mousse.
If I was making this dessert, I'd make a Neapolitan design with strawberry, vanilla and chocolate flavours.