Introducing Roni Arnold, Sommelier at The Seafood Restaurant
04.07.2013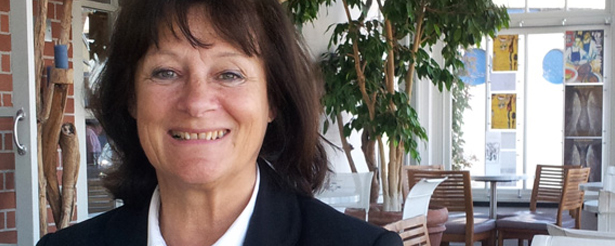 When Roni started working at The Seafood Restaurant in 1988 she did it for the pure adrenaline hit of taking to the restaurant floor, or 'the stage' as Roni likes to call it. 25 years later and Roni still graces The Seafood Restaurant stage, and now as Sommelier passing on her wealth of wine knowledge and enthusiasm to customers and showcasing the extensive and award-winning list or over 200 wines.
With a love for food and a fascination for the workings of a restaurant kitchen, it seemed only natural that Roni joined her sister Jill, and Rick at their seafood restaurant in Padstow. Fresh from the bright lights of Manchester's urban hub, she arrived in a black suit and felt somewhat overdressed and out of place when surrounded by a relaxed clientele wearing seaside chinos and board shorts.
Roni's journey to sommelier hadn't been one that she'd ever imagined. When she joined the restaurant she had no wine knowledge and no interest in wine – she described herself as a 'whisky girl'. Roni admits that she didn't even know how to open a bottle of wine and had to be shown by a fellow colleague.Roni is full of eventful stories from the early days including the amusement often caused by Jill's deafness in one ear and a customer that had scared themselves stiff in the toilets. Roni explains "from when the restaurant first opened it has been a constant evolution, with new ideas and inspiration influencing the food we cook and the style we serve it".
Rick and Jill however, had big ideas for Roni and when they went on their annual winter pilgrimage to Australia, they left Roni the key to their wine cellar and tasked her with trying a few. Roni had only three words for Rick and Jill on their return, 'I like wine!' She had undoubtedly enjoyed her winter wine pilgrimage and had put together a rather large list of her favourite wines and tasting notes.
25 years on and Roni can still be found sharing her wine love with customers or hidden away in The Seafood's wine cellar. She believes "You need to absolutely love your job to stick with it for 25 years, and I do. To be honest, who wouldn't love working with a great team, in a beautiful location with fantastic food."
Roni's favourite wine: too many to choose from, but I love Italian reds. 
Favourite Rick Stein dish: Grilled cod with aioli and butter beans from Coast to Coast.