Recipes from Rick Stein's Long Weekends, Palermo
16.12.2016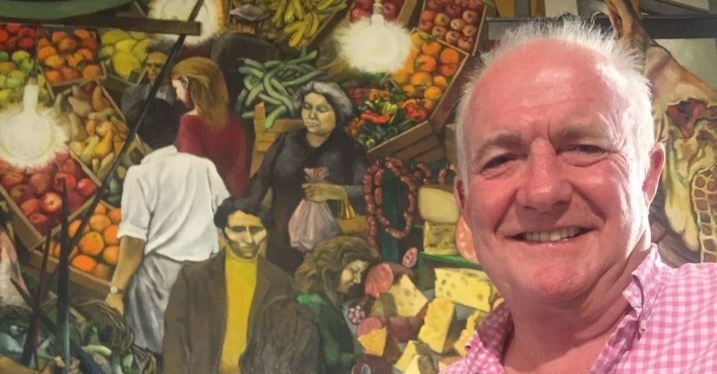 Rick Stein's Long Weekends series has provided a wonderful tour around some of Europe's best culinary cites. These three recipes were all discovered in Palermo Italy.
Maccu – Sicilian Fava Bean Soup
Serves four to six
Ingredients
500g whole dried fava beans (dried broad beans)
1.5–2 litres water
2 tsp fennel seeds, crushed with a pestle and mortar
Handful of fennel herb (fennel fronds), chopped
75ml olive oil, plus extra for drizzling
1 onion, finely chopped
2 cloves garlic, finely chopped
1 mild red chilli pepper, seeded and chopped
1½–2 tsp salt
Freshly ground black pepper
Slices of Italian bread, toasted, to serve
Method
Soak the dried fava beans overnight in cold water, then drain and peel off the tough outer skins.
Place the shelled beans in a large saucepan and pour in enough of the water to cover. Bring to the boil and boil for 10 minutes, then lower the heat and simmer, uncovered, until the beans are soft and mushy. Depending on the beans, this can take between 1 hour and 1¾ hours. If you can mash the beans with the back of a wooden spoon against the side of the pan, they are ready; if not, continue cooking. Add the fennel seeds and cook for a further 10 minutes.
In a separate pan, heat 3 tablespoons of the olive oil and sauté the onion, garlic and chilli over medium heat for a few minutes until the onion has softened. Check the consistency of the mashed beans, adding a little water if too thick. For a really smooth soup use a stick blender at this point to blend the beans; for a chunky rustic consistency, mash with a potato masher. Season with the salt and pepper to taste.
Ladle into warmed bowls, dividing the sautéed onion mixture between the bowls and drizzling with the remaining 2 tablespoons of olive oil. Scatter with a few fennel fronds and serve with toasted Italian bread drizzled with olive oil.
Riso Nero
Serves six to eight
Ingredients
220g pudding rice
1 litre full-fat milk
6cm cinnamon stick
70g caster sugar
1 tbsp cocoa powder
100g dark chocolate (72 per cent cocoa solids), coarsely chopped
30g cut mixed peel
50g almonds, toasted and chopped
Method
Rinse the pudding rice and put in a large saucepan with the milk and cinnamon stick. Slowly bring to the boil, then immediately lower the heat and cook very gently for about 30 minutes, stirring regularly, until the rice is tender but with a little bite (like risotto), not mushy.
Take off the heat and add the caster sugar, cocoa powder and dark chocolate, stirring until the chocolate has melted. Leave to cool, then stir in the mixed peel and chopped almonds, reserving a little of both to decorate.
Divide between 6 to 8 glasses, and chill in the fridge, just before serving top with the remaining chopped nuts and mixed peel.
Espresso Granita
Ingredients
40g demerara sugar
450ml hot espresso coffee
150ml double cream, lightly whipped
4 tbsp sweet Marsala
30g dark chocolate (72 per cent cocoa solids), shaved with a potato peeler or grated
Method
Dissolve the sugar in the hot espresso and pour the coffee into a shallow freezer-proof dish (having first made sure it fits in the freezer). Allow to cool down completely and then transfer to the freezer.
As the mixture starts to solidify, after 45 to 60 minutes, remove the dish from the freezer and use a fork to break up the ice crystals that will have formed around the edges. Mix with the liquid in the centre of the dish and then return to the freezer. Repeat this process every 30 to 40 minutes until you have dish of fluffy ice crystals.
Divide the granita between 4 wine glasses, pour a tablespoon of Marsala over each portion and then top with a spoonful of whipped cream and some chocolate shavings. Serve immediately.
If you'd like to learn more recipes from the show, book yourself onto our brand new Long Weekends cookery course at Rick Stein's Cookery School in Padstow. Find out more about the one and two day courses here.