Rick Stein: From Venice to Istanbul, episode one
07.08.2015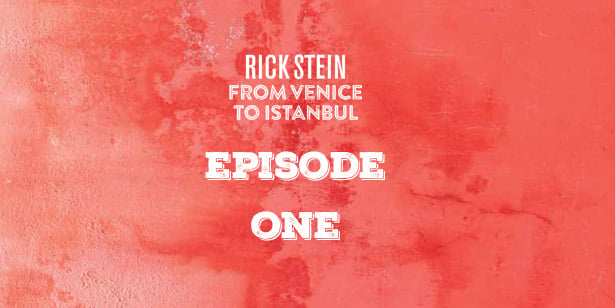 The episode launches in Venice with Rick reminiscing about his previous visits there, before being taken by Francesco Da Mosta to a tiny restaurant, Antiche Carampane, in San Polo the historic courtesans' area of Venice.
Here Rick tried his first recipes from Venice: fried schia in paper cones and bigoli in cassopipa. The bigoli dish is a thick spaghetti shaped pasta with a shellfish sauce, made by cooking the shellfish in a pot with leeks, carrot, onions and a spice mix containing nutmeg, cardamom, cinnamon and cloves. Next, Rick and Francesco headed to All'Arco Cicchetti, a Venetian mezze style bar, to try baccala with garlic.
Rick then goes on to cook a classic gnocchi con granseola dish made with spider crab meat and Byzantine spice mix, before visiting the Rialto fish market, just by the Grand Canal in Venice, home to piles of tiny soles, bass, octopus and sardines split open ready for frying.
The next stop on Rick's travels is to the family owned Hotel Wildner, by the San Zaccaria vaporetto stop near St. Mark's Square. Here he meets meets Luca Fullin, the son, who cooks his classic spaghetti vongole with bass bottarga dish for Rick. He makes this with triangular-shaped clams called telline that aren't actually from the lagoon but the Adriatic, Rick enjoys their sweetness.
Moving next to the Lido, the narrow strip of land which separates the central part of the Venetian lagoon from the Adriatic Sea, Rick visits the Grand Hotel Excelsior. Here he tries gobi risotto, bigoli in salsa, an understated but incredibly good pasta dish with onions and anchovy, scampi alla busara, originated from across the Adriatic and a tiramisu recipe made using a whisked fatless sponge and presented in a cocktail glass that Rick is particularly taken with as a twist on a recipe "as common as apple pie".
La Giudecca is next on Rick Stein's journey through Venice, an up and coming part of the island, in a less visited part of Venice, despite being one of the largest islands.  He visits the Food and Art Café in Giudecca where they do a three course lunch for 12 euros and serve dishes such as sarde in saor. The chef, Irene Fortunato, prepares a Fegato alla Veneziana for Rick, a quickly fried liver dish, cubing rather than slicing the liver and thoroughly cooking it. Rick enjoys the dish and in a city famous for astronomical prices, notes this is a fabulous off-piste place to visit, popular with the locals.
The final part of the episode takes Rick to Harry's Bar where he meets Arrigo Ciprani, who gave up his dream of becoming a Formula One racing pilot to continue his father's restaurant in Giudecca. Arrigo presents Rick with bellini, carpaccio and baccala mantecato: stockfish (dried cod), olive oil and garlic emulsion.
The final recipe from Venice that Rick cooks is a seafood risotto.

If you haven't got your hands on Rick Stein's new recipe book yet, visit our online shop and get yours now. You'll find most of tonight's recipes in there as well as more exciting recipes to come.

Book a table at The Seafood Restaurant to try Rick's Tiramisu recipe from Venice in this episode.

Love the look of the scampi alla busara? Book onto our one day Mediterranean street food and mezze course at Padstow Seafood School and try your hand at Rick's version of this recipe, along with pizza bianco, halloumi saganaki and oven-roasted chicken with sumac.
Catch up on episode one of From Venice to Istanbul on BBC iPlayer here.