Rick Stein – The Road to Mexico: Episode four, Guadalajara to Puerto Vallarta
05.12.2017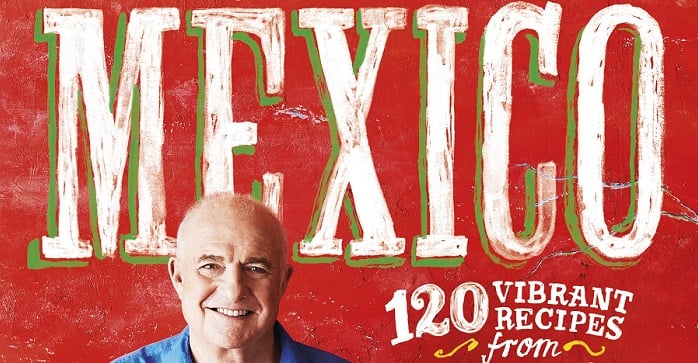 Rick Stein The Road to Mexico: Episode four
Leaving the Baja Peninsula, Rick explores the western mainland.  He lands in the town that placed Tequila (and probably Mexico) on the world map and the metropolis that gave us Mariachis and dishes like Carne con Chile – a city so loved by its people they insist on repeating its name twice – Guadalajara Guadalajara.
After listening to some superb mariachi music, chating about the history of Guadalajara (the valley of stone) and a wander between Hospicio and Cathedral, Rick pays a visit to Baratillo open air market, a must on a Sunday morning, for some authentic street food. A unique thirst-quenching, cold drink made of fermented corn, cane sugar and lime, called tequino was on the menu alongside a Hispanic slow-cooked goat, pasilla chilli and tomato stew – sometimes served in a taco with avocado, it's a popular breakfast choice in Guadalajara.
For his first demo of the episode, Rick cooks up carne con chile at his cottage Padstow. The classic, homely dish is a family favourite throughout Mexico, made with cubed braising steak in a rich chilli sauce with tomatoes, beans and rice. All accompanied by as many toppings as your bowl or plate can handle – shredded lettuce, soured cream, crumbled Lancashire cheese, avocado, coriander chipped onions and radishes, and maybe even a tortilla or two. A great winter warmer!
After exploring the incredible Orozco murals at Hospicio Cabañas and the La Buena Vida painting by Jose Clemente Orozco, Rick visits one of the top restaurants in Latin American, Alcalde Restaurant, to chat to chef Francisco 'Paco' Ruano – who takes classic Mexican ingredients and creates modern recipes with a twist. Curd cheese dumpling with a chilli butter sauce is one of Paco's dishes that light and delicate but still recognisably Mexican. Maize flour dumplings made with curd cheese sit atop spinach that's cooked down with onion, garlic, tomatoes and lemon juice served with a smooth, tangy chilli butter sauce.
Next stop is Jimenez Bakery to try birote bread. A French-style baguette native to Guadalajara that's crunchy on the outside but soft on the inside. Birote is produced almost exclusively in Guadalajara because the city's climate and altitude give the bread a unique taste and texture that cannot be equalled in other parts of Mexico. Following this, Rick goes to sample Don Jose's Torta Ahogada ('Drowned' sandwiches with fresh tomato salsa and a blindingly hot red chilli sauce), that are served, as Rick puts it, 'from a hole in the wall'. A sourdough baguette is stuffed full of carnitas (slow cooked leg of pork), put in a plastic bag and topped with freshly chopped onions, ladles of fresh tomato sauce and chile de arbol sauce. 
Now back in Padstow, inspired by his time in Guadalajara, Rick prepares buñuelos with a spiced guava syrup. Buñuelos are deep-fried wheat pancakes that are served throughout Latin America and Spain, traditionally shaped over your knee to create a rugged shape. The crisp pancakes are doused in a hot cinnamon and guava flavoured syrup, which as Rick says is 'a completely delicious combination'.
Back to Guadalajara, and tripe soup with guajillo chillies is on the menu for Rick at La Cuera Menudo. Which tends to be serves by restaurants late at night to catch those returning home after a drink or two – in fact, it's seen as a hangover cure! It's probably a dish that's not to everyone's taste though… Perhaps ironically after the hangover cure tripe soup, it's Tequila time! Rick meets the founder of Tequila Fortaleza and 5th generation tequila producer, Guillermo Erickson Sauza, to find out everything there is to know about turning the agave plant into Tequila.
Casa Kimberly in Puerta Vallarta, the stunning former home of Elizabeth Taylor and Richard Burton is next on the agenda. Here Rick enjoys Elizabeth's favourite cocktail, a Chocolate Martini, along with Chiles en Nogada, a dish said to have been created to celebrate Mexican independence. Poblano chillies are stuffed with vibrant mix of minced pork, minced beef, raisins, candied peel, nuts and herbs, and finished off with a creamy walnut sauce, a sprinkling of pomegranate seeds and some coriander.
After a mooch on the beach, Rick ends the episode at La Palapa Restaurant, where he samples an authentic after-dinner, flaming coffee – not one for the faint hearted (or to try out at home!) The coffee is "laced" with 3 liquors and are presented in a very dramatic style. In Rick's words "spectacular!"
Make sure you tune into BBC2 at 9pm next week where Rick explores from Mexico City down to Oaxaca;  and treat yourself to a signed copy of Rick Stein The Road to Mexico here.