Stein's Stories: Kay and Trevor
25.04.2022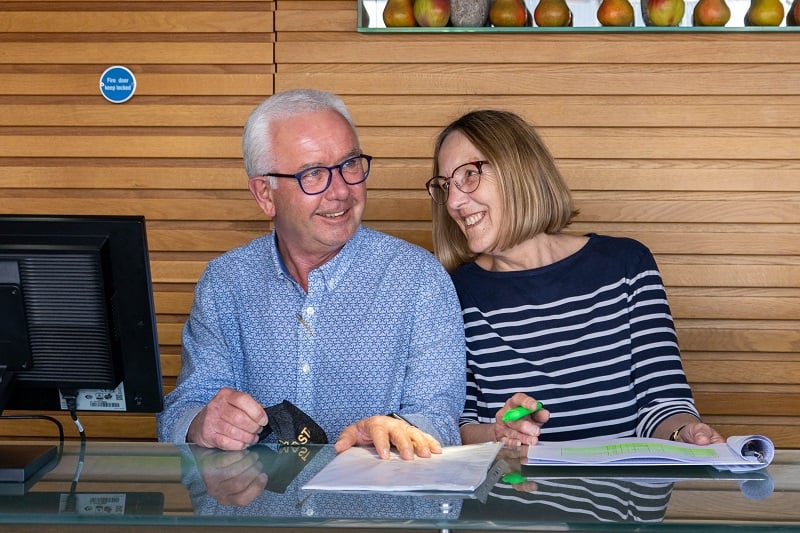 Meet Kay and Trevor from our Guest Services team
Kay and Trevor have been married over 40 years and just love sharing their experience with our rooms guests and colleagues alike.
Both had various careers outside of hospitality before choosing to join our team. Trevor is an ex-military logistics expert and driver and Kay worked in purchasing for the US Navy before joining a local holiday lettings company, where she realised her passion for customer service and making people smile. Trevor joined our team first in May 2019, working as a kitchen porter at our cookery school before helping out in Guest Services (and loving it) and Kay followed in 2021 off the back of his positive experience of the business.
Both now in their 60s they love working full-time in our diverse team, meeting guests and sharing recommendations to help give them the most memorable stay in Padstow. Kay said, 'Everyone plays their part in our team, we're like a well-oiled machine delivering the highest quality service', whilst Trevor's favourite part of the job is proudly driving guests around in our Land Rover Discovery, 'It gives a VIP experience and takes the stress away from trying to find a parking space in town'.
They often take advantage of staff benefits like 50% off food and drink in our restaurants and 20% off Stein's at Home, sending boxes to their family around the country – 'perks like this make us feel valued and very much part of the family business'.