Top five fish from our fish supplier!
27.09.2013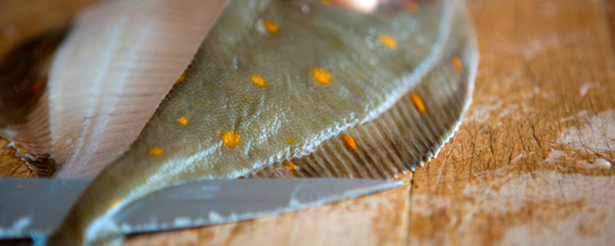 Matthew Stevens & Son has been our local fish supplier for over 15 years. The third-generation company based in St Ives delivers the finest fish Cornwall has to offer to all of our restaurants on a daily basis; from the delicacies found on the Fruits de Mer at The Seafood Restaurant to the fresh haddock on the menu at Stein's Fish & Chips.
We caught up with Matthew when he visited us at Stein's Fisheries to ask him what his top 5 fish would be. After much deliberation (he's a big fan of most fish) Matthew decided that his 'number one' would have to be Mount's Bay mackerel. The fish is landed on his doorstep on the south cost of Cornwall by non other than his grandson whose boat carries the same registration as his great Grandad's boat back in 1916!
 Here's Matthew's top 5 fish and why:
Mackerel – perfect when simply seasoned and then pan-fried
Cod – Matthew loves his cod deep-fried in crispy batter
John Dory – goes great with olives, caper and rosemary
Turbot – served the same way Rick likes it, with hollandaise sauce
Crab meat – there's nothing better than a good Cornish crab sandwich with a bit of mayonnaise"
We'd love to hear about your favourite fish and how you like to serve it so please leave a comment below.
You might also like our top tips for sourcing fresh fish or Charles Stein's suggestions for paring fish & wine!