Stein's Stories: Aarran
14.07.2022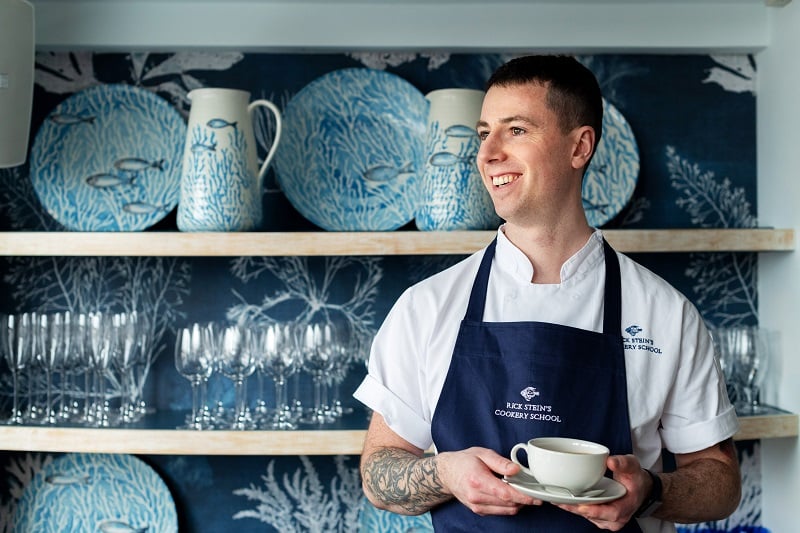 Meet Aarran, our Sous Chef Lecturer at Rick Stein's Cookery School
Aarran joined our team in 2011, working in our Padstow Kitchen. He now works alongside Head Chef Lecturer Nick Evans at the cookery school, delighting our guests and teaching them Rick's dishes.
Born in Birmingham, Aarran moved to Cornwall when he was 5 years old. After finishing school, he worked with his dad as a builder. When he turned 18, his family moved to Greece where they ran their own restaurant. This family run restaurant is where he found his passion for cooking.
After a couple of years in Greece, Aarran moved back to Cornwall and decided to start his career in kitchens. He started working in our Padstow Kitchen where he was offered a plea in our Chef Apprenticeship programme.
During his apprenticeship, Aarran would help out at the cookery school and he quietly realised he wanted to work there, learning new skills from our head chef lecturer. He has now been working as our Sous Chef Lecturer at the cookery school and has been there for the past 8 years.
Aarran's favourite course to teach is 'Cooking from India'. He loves Asian food and it's great flavours as well as being healthy. He enjoys cooking the variety of meat, fish, and vegetable-based dishes inspired by Rick's travels.